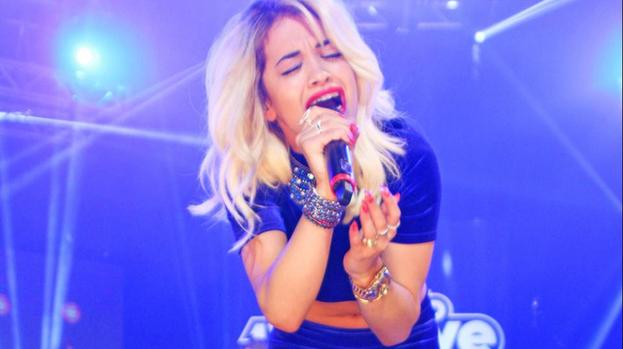 Counting Jay-Z as her wish-granting genie, Rita Ora, her crew and her clutch of chart-crowning singles brought her Radioactive tour alive in front of a sell-out Scottish crowd.
Reaching this point via a Kosovo birth, attendance at the renowned Sylvia Young Theatre School, and as the voice of a new Craig David record that never quite brought him back, Rita Ora thinks big. Her entry on stage last night was strung out and executed to excite her young fans, but ultimately it dressed her up like a microwave meal.
This build-up involved a white sheet with radioactive symbols dancing over it, which collapsed to reveal the ambitious 22-year-old in her own quarantine cell. Expecting her to get slightly agitated, bubble and burst through the film lid like all good ready meals, the prop was simply removed as the busty pop opener of her tour title faded.
In futuristic bridal wear, interestingly designed by luxury Italian brand Emilio Pucci, though with brash fabrics looking slightly more Primark, the crammed stage housed plenty of props, Ora's four-piece band and two backing vocalists. The resulting effect of looking down a telescope backwards meant the stage of Glasgow's O2 Academy has never looked so small, perhaps due to numbers, perhaps due to props, or perhaps due to the never-ending bound of the thrift-store Gaga from one side of the stage to the other.
With bold dance floor volume backing, the Gwen Stefani-esque Facemelt had fans leaping and joining in with the defiant chants. With the crowd fully involved, the all-singing, all-dancing show packed a punch with excess enthusiasm, and scored an A-plus for effort, but cheap aesthetics tended to take away from the rich tapestry that is Rita Ora's vocal.
Throwing confetti over the crowd 25 minutes in to mark a ballad, the prop show continued, with the band at times overpowering any subtleties in Ora's performance. This power struggle was slightly uncomfortable, but followed the ongoing theme of bigger is better.
Bringing girl-next-door charm to a park bench set-up, a stripped-back section let loose the starlet's effervescent chatter, and made more a feature of her incredibly impressive vocal. Pulling a fan on to the stage, and performing Hello, Hi, Goodbye from his knee, Ora ticks all the pop entertainer classics from her onstage to-do list.
Living more up to her peers, rather than a diluted mimic in the latter stages of the show, the chart commander threw out all the hooks, performing Uneasy and How Do We (Party) from a leather catsuit and cap.
At her very best when at her brattiest, chants of 'REEE-ARGH, REEE-ARGH' brought the star back to the stage for an encore, this time sporting what looked like a fitted bedsheet. Each to their own…
Rita Ora has everything to keep her more than just Hot Right Now, hopefully by her next tour she'll be gracing bigger stages or have a better prop budget.