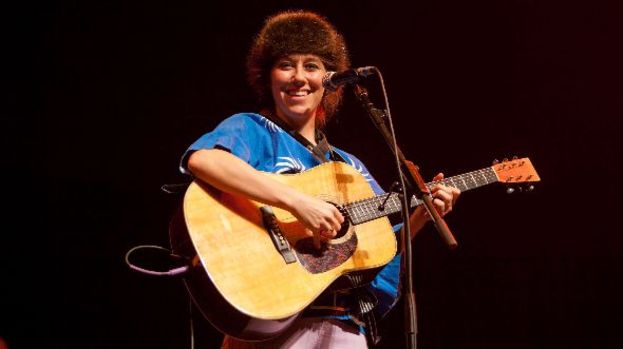 Sporting an outfit Jimi Hendrix would have been proud of, last night Celtic Connections shipped in the marvellous Martha Wainwright, who compelled and cracked-up in equal measure.
Tumbling from a musical womb, last night Martha and her acoustic guitar shared a mutualistically beneficial symbiosis, as her seemingly effortless talent unearthed itself in the festival's chief venue. A more modest turnout than one might have expected for the Montreal star, empty seats were only accounted for by eye, and not by applause which thundered throughout, particularly against the intimate hush of the venue, where Wainwright's gutsy outpourings pulled her fans in even closer to her breathy performance.
Completely untamed in her on stage dialogue, and in her foot stomping, head-shaking delivery, Martha Wainwright presented herself as a woman of many contradictions, but an extremely likeable, and slightly off-the-wall character with it. Migrating from her manic and most inner thoughts peppered in quick wit and a vocabulary which spilled more four-lettered words than a football crowd, to her decadent warble, both were similarly unrestricted in last night's show.
Having released her third album, Come Home To Mama just last year, the 36-year-old's recent record is inspired by the birth of her own son, and the unfortunate passing of her mother, both events conveyed still fresh through the most fragile deliveries of her vocal.
Keeping family at the core of her performance, one of her sweetly sung but swear-fuelled greatest was directed at her Grammy award-winning father, as ever, the track from her 2004 EP of the same name a melodious jibe at his poor parenting skills.
As the boisterous cheers for this track faded, and the chat between Wainwright and her fans was free-flowing, comfortable in each other's company, last night's hostess offered to sign underwear after the show. Well, only the fresh stuff from her merch stall, this being her practical contribution to fans as, 'You go through a lot of underwear on tour.' Allegedly emblazoned with 'Come Home To Mama,' her fans, many in their more mature years, seemed quite delighted by this prospect, the slogan quite appropriate – and in many cases the 'mama' could easily be scored out with a fabric pen and substituted with 'grandma'.
Mentioning her well-known brother, Rufus, in the encore, the defiance of the younger sibling seems to have shaped many highlights of her musical career. Last night's grand finale was to prove to Rufus that regardless of his teasing, she can manage 'these traditional, classical things'.
Resting her guitar in its cradle, and perching on the end of the stage, head held high, Martha Wainwright broke into Piaf completely unaccompanied, the English translation of the French lyrics not required as tightly closed eyes, clenched fists, and facial expression conveyed all that needed to be known.
Fitting into a 'to know her is to love her' niche, or at least a 'to think you know her (from her completely uncensored live show) is to love her niche', last night Martha Wainwright brought her records to life like all great storytellers in yet another Celtic Connections program triumph.