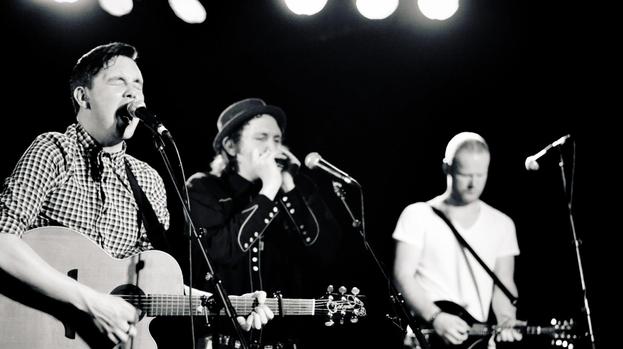 Looking back on 20th century conflicts, the First and Second World Wars, Iraq and even Vietnam would most likely spring to mind.
But a collection of musicians are coming together for one night at Celtic Connections 2013 to remember Scots of the Spanish Civil War.
More volunteers from Scotland joined Spain's anti-Facist forces between 1936 and 1939 than from any other country.
And this participation is recognised in Greentrax Recordings' 17-track No Pasaran! album.
Some 40 musicians whose songs appear on the album will be performing at the concert at the Mitchell Library on January 20.
The gig marks Glasgow band The Wakes' first appearance at the festival after the five-piece's song These Hands was included on the album.
Singer and guitarist Paul Sheridan said: "I think it's important that the efforts of Scots in the Spanish Civil War are recognised.
"I think that we're living in an age where people are less interested in politics but we need to keep the memory of the people who fought in Spain alive in the same we as we honour people who died in the First and Second World Wars.
"Something like this album opens up the message to more more people about what happened over there, whereas in the 1980s and 1970s it wasn't so high profile – it's not taboo to talk about it.
"There's going to be something like 40 performers there and it will definitely be an interesting night."
Other acts performing at the gig include Alison McMorland and Geordie McIntyre, Christine Kydd, George Archibald, Frank Rae, Gallo Rojo, Dick Gaughan, Daniel Gray and Liederjan.
The release of No Pasaran! follows folk label Greentrax Recordings' First World War commemoration Far, Far From Ypres and a live performance at Celtic Connections in 2012.
All the songs on the new album No Pasaran! are songs about Scots who volunteered to fight against General Franco, with some tracks recorded especially for the album.
Paul said: "It's the first time we've played Celtic Connections. It's just an opportunity to showcase what we do but for us we mainly snapped at the opportunity to be involved in an event celebrating Scots.
"Our song is definitely something that needs to be heard live."
For more information go the Celtic Connections website or check out The Wakes' website.
More About Celtic Connections 2013
Related articles