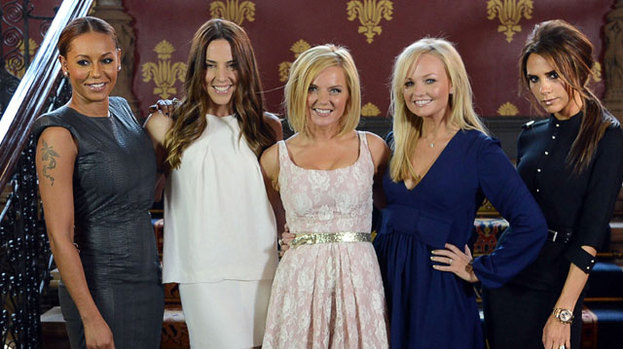 The Spice Girls are set for a massive reunion that will see the ladies release a new album and tour again – but it looks like it will be without Posh Spice, aka Victoria Beckham.
It seems that Vic, the wife of footballer David Beckham, is not keen on returning to her girl group days full-time, reportedly leading to the others to look into recruiting a new member.
And, according to the Daily Mail, Emma Bunton, Mel B, Mel C and Geri Halliwell are considering launching the hunt for a new member via a talent show programme.
The foursome are also said to be open to the idea of signing up an already-established music star, with Sugababes singer Heidi Range one of the names in the mix. The Sugababes have been quiet in recent months, leading to speculation that they will soon split.
A source is quoted in the Daily Mail saying: "The girls are going it alone without Victoria. They are keen to get back together and were trying to work out if they could do it as a four-piece.
"But the Spice Girls as a foursome is not going to get them another record deal or sell out big venues. They need an extra cherry on the cake. And the cherry on the cake would be if they replaced Victoria."
The source continued: "At the moment they're thinking who, out there, who's been in another band, could "be" Victoria. There would be interest in a television series, but I think they're keen on someone with industry experience rather than discovering a new star."
But while Heidi has been suggested as a possible new recruit, Emma Bunton slammed suggestions that Victoria would replaced, writing on Twitter: "None of the Spice Girls would ever or could ever be replaced, nonsense in the papers!!!"
Heidi seemed to find the suggestion funny too, jokingly responding: "@EmmaBunton @MelanieCmusic Ahh and there was me all getting ready to be Suga Spice, haha x."
The Spice Girls have had a good year, which has including a storming set at the Olympics in the summer, as well as the launch of their musical Viva Forever!.
But last week signs emerged that all was possibly not well between the five-piece, when Victoria arrived late to the musical, and then chose to sit away from her bandmates at the launch of Viva Forever! in London, instead staying with her family.
And while the Spices danced the night away at the after party, Victoria had an early night.
All the signs point towards the fact that Victoria, now an established and respected fashion designer, is far from keen to return to her days as a pop star.
And a comment via the star's spokesperson appeared to confirm this, telling the paper: "Victoria respects all of the girls and will always support them all personally and professionally."
@emmabunton @melaniecmusic Ahh and there was me all getting ready to be Suga Spice, haha x

— heidirange (@Heidi_range) December 16, 2012
Related articles