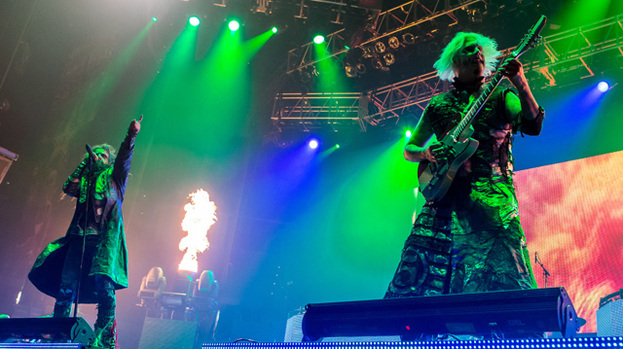 I was always highly dubious of the notion that a musician or filmmaker could 'rape my childhood', an odious phrase first made in reference to George Lucas desecrating the memory of the original Star Wars trilogy with the newer movies.
Having said that, however, Marilyn Manson certainly gave my teenage goth years a dead-eyed dry humping at Glasgow's SECC last night.
As a fan from the time of his most seminal album Antichrist Superstar, it's been a pain to watch his slide from a subversive artist – somebody who appeared to have something genuinely interesting to offer within the realms of modern culture – into a clownish parody of his former self. Marilyn Manson in 2012 is content to regurgitate creaky "shock" tactics while peddling second-rate industro-metal, most of which comes replete with familiar swing beat and a leaden attempt at first-pumping anthemry.
The singer's band sounds lifeless as they trawl though the likes of mOBSCENE, a song which despite its clunky title has the real potential to be a barnstormer in the right hands, LCD screens displaying outrageous phrases such as "ass pirate" and "stink finger" – as though that might be controversial in an age where a Google image search for the most innocent of phrases will uncover first-hand evidence of bizarre sexual practises. The environment has changed, but Marilyn Manson hasn't.
Instead of a decent production the audience has to put up with interminable gaps between songs as he gets off to change costume, the singer sometimes providing rambling and indecipherable monologues. It's as though those behind the show believe that Manson as focal point will distract from the embers of boredom evident all around the stage. The singer himself isn't in top form vocally, screeching and drawling lazily over the top of his best tracks, distinctly failing to provide the type of Iggy Pop-esque raw menace that he had in spades during his earlier days.
It's not the worst show in the world, and newer songs such as No Reflection aren't without their merits – stomping glam-metal riff juggernauting into sandpaper-dry singalong chorus. But, as he trots out a tired rendition of best known song Beautiful People for an inspired encore, ticker tape spurting mournfully from the ceiling for the performance's underwhelming finale, it feels very much like the dying days of an artist who could have matured into a significant and interesting act, rather than sprawling around like a preening panto villain a decade past his sell-by date. The mid-set rendition of 1998's Coma White a reminder of what could have been if Manson had been bold enough to embark on a less familiar road, rather than staggering down the clichéd path that he's current on.
Rob Zombie's massively entertaining set afterwards shows up just how tired Manson's feeble shtick is. The pair are supposedly co-headlining on this Twins of Evil tour, but there was no doubt about who the main act of the night was, speaking as somebody far more familiar with – and more fond of – Manson's oeuvre.
Jesus Frankenstein kicked things off in gloriously fun fashion, massive screens around the stage firing off retro-horror imagery, a multi-limbed skeletal structure looming ominously over the crowd in front of a gigantic iron man structure, before Rob Zombie was suddenly roaming the stage, appearing like a long-dead hobo sent back from the underworld by Lucifer himself to whip the audience back into shape.
The songs spewed forth with a pretty distinct template – pounding drums, chugging guitar riffage, snarling vocals assaulting the senses – but rather than feeling like a tired format, the band's obvious enjoyment proved highly infectious, and they certainly knew how to put on a show. It's telling that guitarist John5 and drummer Ginger Fish used to play for Marilyn Manson – both were given solo spots to shine, and throughout provided a dynamic thrust which was conspicuously lacking from the previous act. You could imagine that they might have had something to prove, given that both have had publicised clashes with Manson. You also imagine that they're feeling pretty smug about their life choices at the moment.
The rendition of his previous band White Zombie's More Human Than Human is as thumpingly excellent as you could hope for, its ascending slide guitar riff spectacularly rousing. Zombie bantered with the crowd throughout, good-natured and humorous as he split the audience in two for a none-too-subtle chant of "rock motherf**er" which presaged the straight-ahead stomp of *Sick Bubblegum, the singer still dancing on various podiums as he had throughout the set.
Given that Zombie is now a well established film director it's no surprise that the show's visuals were top-notch. Indeed, the grimy polymath at one stage mounted some sort of gigantic pneumatic dino-bot prop which marauded the stage, while a giant devil figure stalked John5 during his solo spot, other large-scale props appeared and the multiple screens displayed all manner of carefully assembled (mostly horror-indebted) imagery. Together with the band it provided for a grin-inducing assault on the senses.
"You want us to play old s*** that we didn't even write? Do you realise how insulting that is?" joked Zombie as they teased singalong snippets of Metallica's Enter Sandman and Alice Cooper's School's Out – his ego not getting in the way of putting on an entertaining show – before the band launched gloriously into a blistering encore of Dragula, finishing off one of the most entertaining arena-rock performances imaginable with a flourish.
If this had been a proper contest rather than a "co-headlining tour", Marilyn Manson wouldn't have lasted the opening seconds of the first round before begging for the bell to be rung. In the battle of the pseudo-Satanic rock overlords, Rob Zombie emerged so utterly triumphant last night that you suspected he might be the Prince of Darkness himself.
People who read this story also read