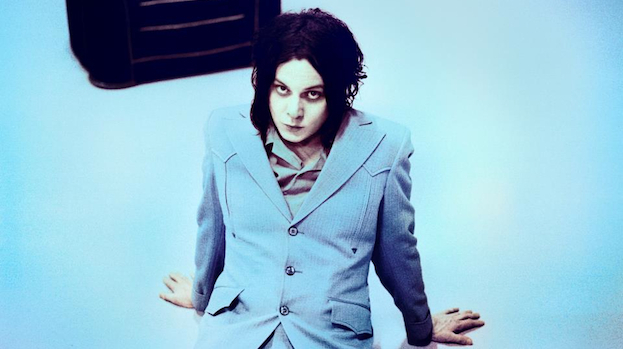 Modern day guitar hero, and penner of a catalogue of sing-a-long riffs for music fans too cool to air guitar to, the man who took his wife's surname, taught her to drum and buried a popular band before it got the chance to perish, brought his solo tour to Scotland last night. Leaving new bands, side-projects and movies in his trail, the enigma who cannot be tamed, Jack White, had Edinburgh's Usher Hall sold-out in a sense of occasion.
Before all of that, it was business as usual for Mr White, who took a chance to show-off one of his record label prodigies in his support, 23-year old Willy Moon. Already soundtracking Apple adverts in his genre clashing, shoe shuffling sound, surely this is a calibrator of cool if ever there was one?
Gaffa taping a synth to Little Richard's back, and throwing in a couple of Bond girls that handle their instruments like weapons, Willy Moon smashes the old with the new, taking care of the aesthetics with these female musicians. They work provocatively next to his slimline rock 'n' roll silhouette, raging quiff, and spray on skinnies.
Conducting a booming dirge from a synth that followed a traditional rockabily bass line, with Elvis purls on his vocal chords, Willy Moon is very much a grand persona, pulling shapes and slipping into faux American tone between his rocks around a two minute clock.
Slicker than said Elvis' quiff held in place by burger grease, Willy Moon conducts one very professional show, with said Apple track, Yeah Yeah, getting the crowd nodding in realisation of who performed before them. With the rest of his sharp set showing similar charm, Willy Moon is onto a winner with his reinvention of the past with the best tools of today.
Charming from the start, Jack White's entourage dressed up and asked us to keep our cell phones down. Met with a whoop from the crowd, it was a welcome sight to view a gig clean without the kaleidoscopic fly-vision of mobile phone screens, even if this early request had you aching with excitement for the Jack White brand for a whole fifteen minutes before his grand entrance.
Making up for Meg with six other long haired lovelies, Shakin' their way on stage, picking up tools and descending into a cacophonous dirge that resolved in a bulked-up, string-heavy, Dead Leaves And The Dirty Ground, Jack was back.
There was something demented about the playful black and white scene that played out before the sold-out crowd, with one track leapfrogging, into the next and Jack barely acknowledging fans as he conducted the show, as though being pulled around the stage on strings by some greater being, or a snot-faced kid giant, at home playing The extra-large Sims on his extra-extra large computer.
It was great to see Jack work at ease in his new set-up, at 37 years of age, still continuing to be inventive and as experimental in his approach to riding the Blunderbuss. Conversely, at times, the new depth of sound masked any clarity, with the Detroit drawl competing against a constant tirade of free-style fiddling.
Hotel Yorba hit a hoedown high, though even today I'm still working out if it was too Cotton Eyed Joe, and I preferred it when incest was being questioned in the two-piece lineup due to rumours, rather than soundtracked by the red neck vibe. Speaking of which, although Mr White had a gaggle of ladies on stage, he spent much of his set before the drums, hooking up the idiosyncrasies of his guitar playing with their tight swing.
Keeping up Vivienne Westwood photo shoot appearances, I'm Slowly Turning Into You exercised electric bass, as opposed to the vintage double which had served the low-end up until that point, throwing a primal vigour into the set, and some much needed definition.
In a battle of the sexes, Steady As She Goes allowed the chicks to curtsey out of proceedings, as a brash all-boy band took on the second half of the show, every bit the testosterone-infused stereotype their female counterparts were not.
With the pass the parcel style, ever peeling stage backdrop skinned bare to the pipes of the venue, this visual was much like the unleashing of the raw sound which was unearthed with new energy. Rollocking with girthy blues guitar like he used to, and stomping all over that pedal board for extra wails and screeches, I hate to say it, but it was the boys who were closest to blowing the roof off of the spectacular venue last night.
Their welcomed brawn muscled through Jack's past and present, in a loud and victorious audio-description of This Is your Life, taking on a stylised Seven Nation Army to finish, and sounding like it was backed by Queens Of The Stone Age.
Jack White is back, and although the sound was a bit too rock 'n' roll at times for the affair he conducts these days, the American mega-star retains his credibility as one of our last true guitar heroes.
People who read this story also read