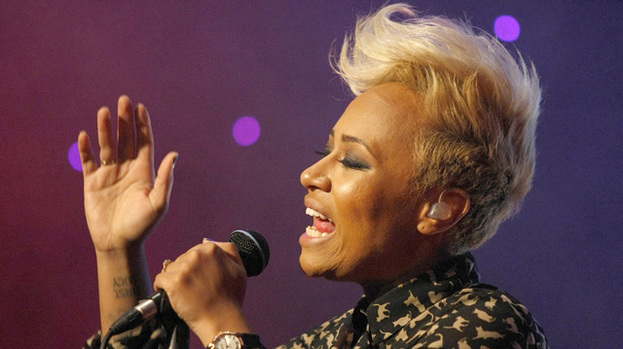 Playing her biggest solo show to date, Emeli Sandé's performance factor has grown with her popularity, struck alight from the dramatic beginnings of her Clyde Auditorium show last night.
With our glamorous hostess in black and white, backed by gospel singers, the genuinely goosebump inducing introduction to her show reshaped Daddy in Bond theme fashion, or perhaps the final scene in a blood splattered musical, with Sandé standing the sole survivor, (oh, and her six-piece band loitering in the shadows).
Emeli Sandé by far bypasses much of what Scotland has to offer in the headphones, slashing the bike tyres of The View, volleying the football chants of The Fratellis, and snapping the average female singer songwriters' guitar to match the capabilities of their vocal chords. Rising up from the tartan turmoil with a remarkably genuine talent, Emeli Sandé is an artist that should be seen live to fully respect what she has to offer.
Having seen Sandé perform before, and being surprisingly impressed, tonight took a previously flawless show up another notch. Whether favourable acoustics in the venue, or a bigger band, extra percussion and orchestral synths, it built the tracks into subtly enhanced dynamic works for higher impact.
Gliding effortlessly from track to track, like the range of her vocal, Sandé channelled old school diva in the auditorium, with a tensely seated crowd, and a spotlight illuminating her swaddled silhouette. Throwing two new tracks into the show, the newly married songstress continues to write regardless of her hectic schedule and high demand.
Following a similar pattern as her debut album, Our Version of Events, the tracks aren't a breach into thrash metal, or a well-branded traipse through pop in Madonna's old underwear. Sandé reliably continues along the path of atmospheric soundscapes with rich melodies, which seem to have more longevity in their insular make-up.
Dedicating My Kind Of Love to Nordoff-Robbins Music Therapy, the charity to which the show was donating all proceeds, the sit down affair perhaps resulted in less of a singalong than you might have expected. However, our hostess gave it a bash, giving free license to the crowd, and particularly my mother, to get unashamedly involved in their own modulation of events.
Attention to detail in the show made for many highlights, though a delve into Nina Simone territory is more than worth a mention, with Sandé behind an upright piano and accompanied by the warm lean of her gospel singers. Continuing to keep the set diverse, Suitcase was accompanied by only a bass and some sporadic, understated percussion, allowing Sandé's distinct vocal to shine.
Racing to an uplifting finish, the crowd were on their feet for the summer-infused sounds of Wonder, which triggered a bigger feel-good factor than a week in the Bahamas with a backpack of Calippos. Well, almost…
Keeping the auditorium on their feet for the encore, the rise of Emeli Sandé appears unstoppable, with the former medical student continuing to be medicinal, regardless of her alternative career choice.
Related articles
People who read this story also read