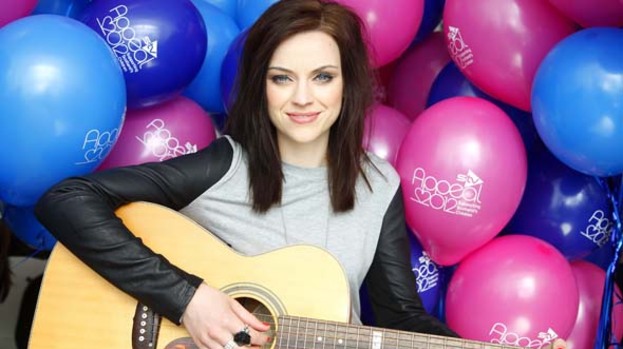 With witching hour almost upon the Halloween crowd, Amy Macdonald's sold-out show was absent of the breed of cheap onezies that flocked the rest of Sauchiehall Street. The bulked out crowd was mainly made up of the chin stroking gig goer, with matching wives in fleeces, unless there was a retro Take The High Road fancy dress theme that I was unaware of.
Out in force to see the girl from Bishopbriggs, three albums later, and the same girl that can walk around her hometown unnoticed, is also a multi-million record selling artist across Europe. Opening up with latest single, 4th Of July, Amy and her five-piece band warmed up the crowd, her familiar contralto recognisable, though void of charisma, but music to the crowd's ears all the same. Leading into the reel like tempo of Poison Prince, the patriotisms begun, with a few gig-goers letting out that noise that only Grans can do to Scottish music, something along the lines of 'Aeeeeyach!'
Making no secret of her roots when addressing the crowd in an obvious, slightly brushed up Glasgow accent, fans listened intently, itching for their next opportunity to participate. Clapping along to the beat there was barely a phone to be seen filming the set, probably because much of the crowd didn't know wifi from a hifi, but they were certainly dedicated.
Thanking the crowd for getting her to number one in Scotland, whilst the UK chart pigeoned her at number two due to a certain Mr Gary Barlow, Macdonald joked that, "It's good to know up in Scotland we have better taste..."
The Game was delivered more heart-felt, though still Macdonald retained a part of herself, well-guarded regardless of the emotion in her songs. Coming from a folk background where the artist doubles up as a story teller, it's difficult to work out whether she's protecting herself, or a little dull.
Mr Rock & Roll from her debut was a Celtic sing song, throwing hands in the air in time to the light drumming with plinky plonk piano getting toes wiggling. Keeping the crowd in full song for Slow It Down, as she told tales of Scottish festivals and football teams, she reassured anyone in the audience that had any doubts, that she was indeed as Scottish as a Tunnock's Teacake washed down with Irn Bru.
An acoustic set 'for hardcore fans that come to every show' started with Love Love which served as a welcome break from the preceding sound of new year. Expecting Jools Holland and his countdown clock to jump out of the bass drum at any moment, shooing away Macdoald's pianist in one boogie-woogie swipe, although well orchestrated, the band's overall sound in the first half was very hogmanay. The space in the room from the newly stripped-back phase also allowed Macdonald's vocal to resonate clear, allowing greater appreciation for the well-defined chanter.
A cover of (Your Love Keeps Lifting Me) Higher And Higher suited the 25 year old's husky tones, and on the subject of tone, doubled up as a bingo wing flexer for a lot of ladies in the house last night. Bridging the acoustic set into Don't Tell Me That It's Over, the show took a darker turn with more variety in the sound, as the night Canadian Barndanced to the finish line.
Amy Macdonald and her traditional tartan-tongued tales have an army of fans hooked. With girl-next-door delivery and simplistic sing songs, her mass-appeal is plain to see, though she lacks any particular distinction to take her from pleasant to superstar. With enough fast cars for the time being, and anonymity just about retained, I doubt the adrenaline junkie is really all that bothered.
People who read this story also read