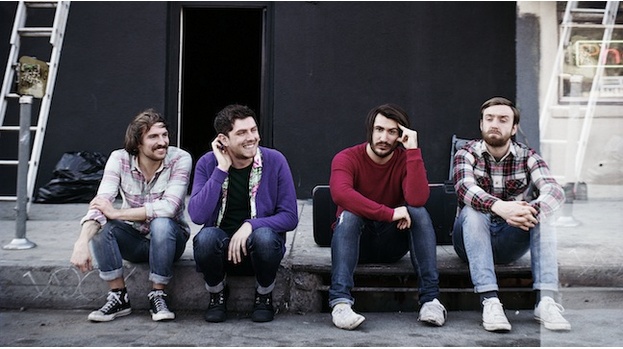 Living every Scottish band's dream, and it wasn't being supported by The Brows From Busted, Twin Atlantic, long serving figures of the Glasgow music scene, sold-out the infamous Barrowland Ballroom two nights on the trot, in a personal career high to kick-off their UK tour from their home ground.
Leaving the support as a headlight to showcase two local bands who are furiously tracking their trail, last night was the turn of the ravenous United Fruit, after Paisley's Carnivores opened up for the four-piece on Friday.
Having seen the band on various festival outings this summer, the now five-piece have tamed the beast, exchanging part of their raging rock pheromones for an underlying pop current, though this remains well-buried beneath their cage-rattling brawn. Crossing over to their kindred punk in one track, United Fruit have evolved into a more marketable commodity whilst retaining their edge in a win-win situation.
With Biffy allowing bagpipe solos these days, and Idlewild gathering dust, it's an open playing field for new blood to fight their way to the forefront of the fervent Scottish music scene. With material in their back pocket, and riffs to kill, learning to command a bigger crowd is the last remaining memo on the to do list for United Fruit.
I'm afraid I'm going to have to mention the inevitable B- word again, but from their crowd surfing opener, Time For You To Stand Up, Twin Atlantic have made giant leaps into the craters of Scottish rock that were blown into the ground by Biffy Clyro before them. Yes, everyone compares them to Biffy, but with alt rock and aching hearts from a Braveheart bellow, there's obvious reason.
More than local heroes these days, the hard working four have crossed over, sending Atlantic into the daily vocabulary of Radio 1 DJs, even if they'd struggle to point to it on a map. With distorted guitars keeping the boys happy, and enough emotion and skinny jeans to keep the girlfriends interested, the band have an evenly split crowd in a scene that can often become testosterone saturated. Well, music-scene creative testosterone saturated; it's not quite the potent brand that laces the walls in the weight rooms of gyms, interspersed between salt-crystals.
With heart on sleeve nasal depressions voiced before the acceleration into epic tirades of four-four sway rock, there's not a lot of variety in Twin Atlantic's sound, but the rush of the quiet-loud-quiet-loud interchange, accompanied by blaring lights, serves as a playground for pumped up fans.
A down tempo breather in You're Turning Into John Wayne rivalled the old Frightened Rabbit sing along stakes, though it was their plundering anthem Free that had the crowd running from toilets and bars, their obvious vehicle to the Radio 1 A List.
At their best in the encore, a Beatles cover exercised the lower range of Sam McTrusty's vocal, showing more depth than the range at which most of Twin's material is written. Leading into the emo dream of Crash Land, the cello accompaniment gave warmth in the lower end, before fan favourites served the finale grand. With giant coloured balloons released into the crowd Flaming Lips style, they still couldn't rival the high of this evening's hosts, as they bounced up into the infamous stars of the Barrowlands.
Twin Atlantic do what they do very well in flawless synchronicity served with skinny jeans. They've reached all good music stores, and probably your Asda down the road, and for now they retain the integrity they started out with to show hard work really can pay off.