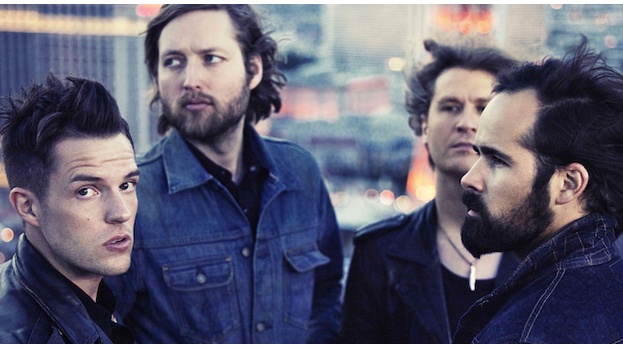 Looking like X Factor auditions had descended on Glasgow, kings of indie rock 'n' roll, (sometimes glamourous), The Killers, brought with them the Fifty Shades Of Grey gorging population, for the first night of their UK return.
Four years since their last headline tour, they served up a slice of Canada in support act Tegan and Sara for starters. Growing from the angst of teen bedrooms, the identical twins have upped their game and recently supported The Black Keys' American tour, only to fire-up for The Killers in the UK.
Working from a similar soundboard as those unearthly Killers, fuzz synths and warm bass were separated by dual Karen O-esque vocals, the hot dog guzzling Killers hardcore team not an easy one to win over. Taking their one gig a year serious, these creatures arrive early and stay rooted to the front of the stage, four pints lined up at their feet in wait for a delicate whiff of their indie prince. (I imagine he smells like a Magic Tree- 'Vegas in Bloom with Rustic Moog Undertones', available from all good merch stands.)
Creating atmospheric blurges peppered in subtle hooks, the Canadians kept it polite, pulling aboard the crowd with their personalities, and winning fan status through their well executed set. Leaving bashfully, they have every chance of maintaining their new fan base today as the last point of full-working memory in many cases ended there amongst the builds and bursts of the set.
Saving the costumes budget for pyrotechnics, The Killers have ditched the diamantés, and have re-entered the rock 'n' roll era, working from a black palate where leather was sported without peacock feathers. Fashionably worn, and I imagine infused in raw testosterone, derived from perspiring athletes in another of these behind the scenes scandals, a sold-out SECC went wild as the heroes of mass indie were topped by a buffed-up Brandon Flowers.
Synths and a Vannucci roll, (as popular as Gregs' of the sausage variety), ploughed into A Matter Of Time, sung en masse, where Flesh And Bone swelled into a vigorous fantasy fuelled frolic, sending the middle-aged-women wobbling faster than a hard sesh at their VibroGym.
With Mr Flowers going all boy band on us, where the remainder of everyone's favourite 'rock band' looked hairy and disgruntled, Smile Like You Mean It kick-started the Killeroke with all vocals, synths and general hooks accompanied by the live band in the background, with the crowd creating their own rendition at the forefront. Served with a self-tanning stage backdrop just to really create that Hot Fuss, or perhaps taking things to the extreme of crowd-pleasing, The Killers know their debut remains their strongest work, and kept the set well-seasoned with fan favourites to keep the hipsters and Tesco Club Card holders similarly happy.
After that old rhetorical debate of Human, Here With Me promised a new album favourite, though again, Mr Flowers did decided to get all dreamy on this one, so the 'sing along' could have been screaming as a result of palpating hearts at his flexing biceps. With the most-talked-about Mormon keeping chat to a minimum, when he did get an opportunity to talk, you couldn't help but feel he was delivering a subliminal sermon, keeping it very controlled and well-rehearsed, redundant of charisma no matter if the sparkle setting in his eyes was cranked up to an eleven.
A stumbling new intro into Somebody Told Me tricked the crowd for a bit, before it was lagers at large in a spot of pint throwing to really make Scottish dreams come true- their favourite band AND alcoholic rain. Mr Brightside, of course, featured with Keuning taking to a misty spotlight as the rapid jog through the 2005 anthem was deemed necessary but grimacing, as the glory of this, one of the band's first tracks, has never really been surpassed.
The format of the night was maintained with an encore that bargained the new with the old. When You Were Young served as a fist-punching sing song that resolved into the deep American stride of tour and album title track, Battle Born.
Being made for mass consumption surely doesn't mean you have to be that bland, but The Killers kept it vanilla, pleasing a wide demographic of hyped up fans- one of which will be devastated to find today that she filmed the majority of the set with her iPhone pointing at the stage but filming her own forehead from the reverse. Whoever thought that Bon Jovi meets Pet Shop Boys could be quite so appealing, though from a Gangnam Style worshipping nation, nothing should shock.
People who read this story also read