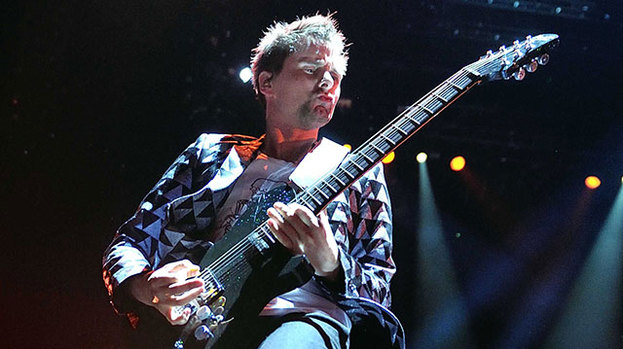 As Muse launch from dubstep-infused opener The 2nd Law: Unsustainable into the wannabe Bond theme grandeur of Supremacy (resembling Paul McCartney's Live And Let Die channelled through a frazzled quantum vortex machine), it's evident that the trio aren't so much trying to win over the SECC as conquer the entire galaxy with their stupendously overstated pomp-rock.
Video screens are layered just under the band in an upturned eggshell formation, making their glimpses of the group useless to anyone under six foot.
Never mind though, for soon singer/chief widdler Matt and bassist Chris are at either side of the stage gesticulating from higher turrets, drummer Dom holding court at the centre of the highly impressive stage. Meanwhile, the trio's hapless keyboardist – let's not adorn him with a name – is stuck behind what looks like a clump of giant charcoal sticks, forevermore stage right to the band's sticksman in his own dimly lit enclosure. (This his punishment for not being a founder member of Muse, I imagine.)
A mesmeric structure descends from directly above the stage soon after the group's arrival. I desperately wish that it's Mork wanting to join them on an extraterrestrial-tinged take on Call Me Maybe, but the realisation dawns that it's just a massive upturned pyramidic video installation which helpfully offers up close-ups of the band – amongst a variety of cosmic imagery – for those struggling to get a view. (Unfortunate for us lanky buggers who thought we had sole view of their excursion through a funky and beguiling Supermassive Black Hole.)
I spent the next song trying not to be drawn into the majesty of Matt Bellamy's chequered suit jacket, at one stage querying poignantly: "Is this jacket but a government trick to assimilate and subsequently destroy the audience's independent thought processes?" Not so, I decided – not least since Matt himself has always decried the sorts of ruses feared of by paranoid conspiracy theorists. (But maybe, I pondered fearfully, that is the ultimate trick?)
It was a pickle. Never mind, though, as the joyous funk strut of Panic Station fortunately whisked me right out of my existential conundrum, Bellamy's suprasonic falsetto sharpening my mind back to the show like a Bengal tiger eyeing a lame antelope wallowing in a muddy puddle of priapic anxiety. It's a shame that more of the show didn't see the band displaying such verve, but then these are changed days for the Teignmouth terrors.
Muse's appeal has broadened as they've embraced and purposely quickened their ascent into a 21st-century Queen – that comparison especially apt on the basis of this show, heavy on material from unashamedly populist new album The 2nd Law – the collective IQ of the audience holding steady even as they've moved from playing to mere hundreds to tens of thousands.
The show was soddened as they lapsed into lighter ballad material, Bellamy caterwauling his way through the soaring anthemic numbers as though it might cure world hunger – resembling a psychotic Freddie Mercury on a heavy dose of Quaaludes in the process – before Muse fastened themselves back on to the right track with a scintillating Time is Running Out. Bassist Wolstenholme took over lead vocals for Liquid State, his more generic vocals contrasting sharply the unmistakable tone of Bellamy's, though the song itself was another driving number which brought with it a strong audience reaction.
Bellamy then reassumed centre-stage for Madness, which apes Queen's I Want To Break Free so badly it's like that bit at the end of Gorillas in the Mist when Sigourney Weaver is literally ripped apart by our simian brothers (though still manages to do a catchy guitar solo before the end credits roll). After that it was another dubstep-heavy newer number, Follow Me, which appears to use Bellamy's own son's heartbeat as a fascist rallying call for future ages. (Matt Bellamy Jr will probably have a ready-made army primed for his 16th birthday thanks to the soaring number, which is probably fair enough given that the song's a pretty natty affair, so why wouldn't we do whatever he says?).
Then a dip into staccato string-laden R&B for Undisclosed Desires, which saw Bellamy striding around and embracing audience adulation like a messianic rock-god Mandela, before Muse again proved themselves the fantastic rock band that they ought to have been throughout the entire show, full of fist-pumping swagger during a rousing, soaring Plug In Baby, its chorus purposely made to have thousands yelling along with glee in their hearts.
The crowd were again supremely responsive as they launched into an inspired Stockholm Syndrome, its scintillating tempo maintaining metal-inflected riffage for some supreme headbanging moments. Those two songs in themselves make you wonder why they pander ever more to a mainstream audience, when their strength lies in being a brilliant, skyscraping rock band.
Then that upturned pyramid structure descended even further, appearing to land upon them and turn Muse to mush. Disaster!
Not to worry though, for they had only disappeared to prepare for an inevitable encore, returning with the Doctor Who-esque stomp of a chest-thumping Uprising. After that was the glorious Knights of Cydonia – which ought to have been their template for songs from now until the end of time – before a soaring Starlight and the terrifically OTT trappings of Olympic anthem Survival rounded off the night with a glorious insane flourish. It was a great show, but if they cast their minds aside from conquering the galaxy and instead focused on their strengths then it would have been a more brutal and brilliant performance. Still, Muse remain in a tremendously unhinged stadium-sized class of their own and for that – and for an escape from the dullness that regularly threatens to completely devour popular music – we ought to be enormously grateful.
People who read this story also read