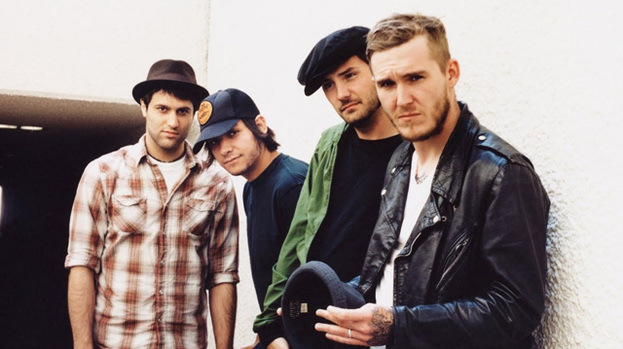 Unsure at first of what to expect from the eclectic crowd, it didn't take long to realise that I need not have worried about the level of crowd enthusiasm for tonight's show.
Despite a lacklustre reception for support act, Brighton-based Blood Red Shoes, hairy bikers and false-lashed lovelies alike join together to greet the main attraction with the kind of excitement usually reserved for the front row of a Justin Bieber concert. (More about him later…)
The Gaslight Anthem start as they mean to go on – with wistful musings of love, longing and nostalgia. Surprising set opener, Mae, from the band's fourth studio album Handwritten, eases the crowd in gently with tales of faded jeans and Bette Davis eyes. Picking up the pace, the might of American Slang kicks in – to which the guy beside me, ironically in his best Scottish slang, notices "it's pure bouncin' doon the front, man!"
Although the set list is weighted in favour of material from current album Handwritten, at times to the omission of firm fan favourites such as Old White Lincoln, the sold-out crowd never lose momentum. Instead, Brian Fallon's husky tones struggle for prominence over the crowd singing along to every word of Handwritten's lead single, 45. That being said, the inclusion of several tracks from debut album Sink or Swim delight the New Jersey rockers' loyal followers.
In between tracks, the onstage banter flows freely, with the crowd lapping up Fallon's Justin Bieber quips. The mention of the floppy-haired child star prompts boos to ring around the sold-out venue, to which the charismatic frontman replies: "Booing for Justin Bieber is like cheering for pizza. Does everyone like pizza?"
Live favourite Great Expectations ends the main set, leaving fans hungry for more – an appetite that is soon satisfied with a four-song encore. The beautiful She Loves You features alongside The Backseat, bringing the evening to a foot-stomping close.
Since the release of The '59 Sound in 2008, music critics have been quick to draw comparisons between The Gaslight Anthem and fellow New Jersey rocker Bruce Springsteen and Traveling Wilbury, Tom Petty. However, with Fallon's ability to write and deliver a couplet which can both melt and break your heart in equal measure and a show of musicianship as tight as it has been tonight, the New Brunswick quartet deserve a place in Americana music history books all of their own.
Review by Lauren McKenzie
People who read this story also read