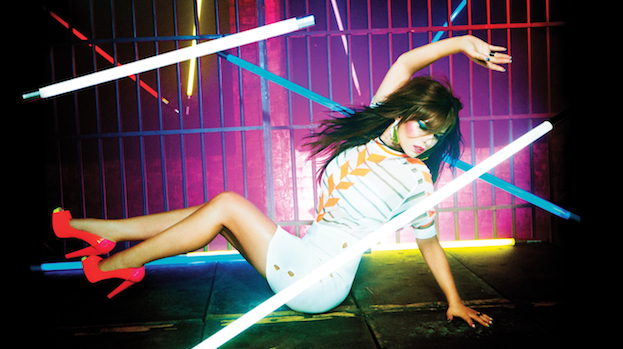 I must have missed the memo, but there seemed to be a strict dress code for Cheryl, (once, Tweedy, then Cole, now a one-name wonder like Madonna or Prince, though somewhat lacking that bold statement name, in a title that also belonged to at least 5% of your primary school), where you had to dress like her, or if you were even more unfortunate, get on your Cher Lloyd clobber. Halloween's just around the corner after all…
Somehow, we made it past security in our non-fan attire, probably passing for a parent of a small Cheryl fan, being given our golden ticket to the support act. I'm not sure of his name, but he pranced around the stage like a competition winner, warming up the crowd as much as the Scottish air on a cloudless night. In hindsight, perhaps he was a decoy, designed to make the pop extravaganza to follow something of greater spectacle than it really was.
With the lights going up to reveal a pyramidesque stage set up, and with well-formed dancers standing statuesque on light-up cubes, Cheryl – it feels ever so rude to be on first name terms already – appeared at the apex and quickly swan-dived into the bulky arms of her dancers, including new boyfriend Tre Holloway.
With a sparkly jumpsuit and flowing locks, it quickly became obvious that her lip syncing wasn't quite as flawless as her make-up. Beginning with gyrating number Sexy Den A Mutha and pulling out all the stops in the dancing department, the dainty doll tallied up her cute points, but got so involved in her dancing that she either forgot to mime, or mouthed half a word later. It left you wanting to reset your broadband router to fix streaming issues.
With no backing band and a lot of posturing and wind machines, the show was heavy on the aesthetics, relying a lot on Newcastle's bonnie wee lass as she fumbled through the next mime act of Promise This. Taking that all important phrase your granny taught you, 'It's nice to be nice,' to the extreme, just look at where it's taken Cheryl.
Throwing in a Girls Aloud medley as a warm-up to their comeback next month, Cheryl took her turn singing live in a noticeably weaker vocal, offering the mic to the crowd when she reached the high parts. See? She really does need you girls!
Stretching out her style-over-substance set (the term style is used loosely here), with dancers in batwing attire pulling stunts as they pinballed off of trampettes, the tiny 29-year-old made her way to a smaller stage within the crowd for Parachute. Thanking fans and telling them that she appreciates all of this more than they'll even know (and so she should), her first solo number one, 3 Words was turned into a duel with will.i.am (in the form of a pre-recorded projection) singing to Cheryl from the main stage. Her most impressive live vocal of the night showed her at her very best, although it's a shame that her Quiz Clothing does Xena: Warrior Princess attire didn't do her similar justice.
Following more padding in a ten minute DJ set that turned into a Gangnam Style muscle flexing session with no particular choreography, Cheryl was back in belly top, harem pants and platform trainers for some revenge in Screw You, allegedly a nod to former X Factor colleague Simon Cowell.
Fighting for her love all the way to the finishing line in NYPD attire – well, that was the backing dancers anyway – Cheryl appeared to be wearing an oversized, flame-retardant gillet, Cheryl stuck to what she was best at and danced her way to the finale, with the song focusing on group choreography rather than the vocal. Latest single, Call My Name, gave a flourish of the club, and inevitably turned into another dance routine just to finish things off.
Smiling and waving at fans, Cheryl and her girl-next-door charms masked a performance similar to her hair in the L'Oreal advert. Firmly taking the title of the nation's sweetheart, regardless of lip syncing, limp dancing, or costumes more flammable than a box of matches, it really does pay to be nice.
Related articles