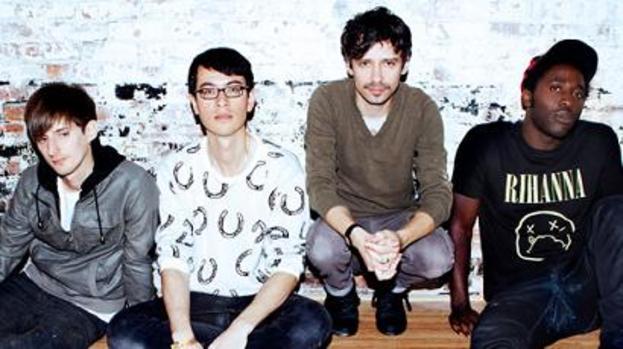 Rumours of disbanding and auditions for new frontmen couldn't seem further away, as London's Bloc Party were back in Glasgow for the second time in only a few months.
Taking to a larger venue this trip following the release of their latest album, Four, the boys who were made a mock of, back in the day of the all too keen acid-tongues of the Gallagher brothers, are still going strong, whilst other bands from the indie boom have fallen. With an obvious presence of young fans in the venue tonight, the band's thoughtful post-punk continues to be a breed of its own, rivalling fresh faces on the scene with their experienced underdog musicianship.
With a booming intergalactic intro and crowd spanning lasers- that seems to be how the guys roll these days, I don't blame them- the familiar four-piece shuffled onto the stage, picked up tools and fired into angular guitars and jarring rhythms. So He Begins To Lie was topped by frontman Kele Okereke's calm vocal, and despite the track's fairly placid tempo, the first of many moshpits begun- as I mentioned previously, the kids were definitely in tonight.
The frantic 3 x 3 took the moshing up a gear, the familiar sound of Tong-powered off-beats conducting the frenzy, with the 'polite-moshers' keeping their bounce on the perimeter, not wanting to lose a button, or smash their glasses, but involved enough to update their Facebook status immediately after.
Staying heavy-handed, and with Lissack stomping all over a whole host of new effects pedals, Hunting For Witches was the first stretch to the Bloc Party back catalogue, with a rapid tempo now the electronic undercurrent, and in turn, BPM stabiliser, had been well and truly ditched somewhere along the way of their three year hiatus. (Potentially left in a rehearsal room with Kele's solo project, or torched on tour by Gordon Moakes' Young Legionnare.)
Banquet from their groundbreaking debut followed this thunder into the set with the foursome showing new vigour for their united force, though Kele still maintained his role as band spokesperson, engaging the crowd, whilst Lissack and Moakes tended to remain in their own bubbles.
Their heavier resurgence broke for the melodic Blue Light, leaving their new photoreceptive fans to sway in steady light rather than the mosh setting of the strobes. The breather had fans singing along, before a keyboard was dragged on stage for chart hit, One More Chance, again forming a much harder villain in the guitar-led rework.
With their drummer just about playing glasses off of his face, after their fast-paced first set, "a hungover track", aptly titled Sunday showed Bloc Party in their quieter moments, though as This Modern Love found out, when both tiers of the venue are bouncing along and screaming the lyrics in harsh Scottish voice, reflective numbers are just a tad less so. Regardless, Kele still does do a good job of looking reflective from the front of it all, whilst Lissack and Moakes are naturally reflective in their indie-shy, eye-contact avoiding ways. Like all good drummers, Tong has no time for emotions and keeps the beat racing.
Keeping the energy levels high, Kele, who looks like he's off for a game of basket ball in shorts and a loose-fitting Public Enemy t-shirt, dances his way through Calvin Harris and Rihanna's We Found Love and into Flux, before a second encore allowed the four to leave by Helicopter, even if their budget didn't.
Playing a fan-favourite set, amongst select sonic-barrages from their volatile new release, Bloc Party have certainly found their mojo. Let's just hope they continue to exercise it as they soar into their prime, rather than use this One More Chance as a sneaky farewell tour.