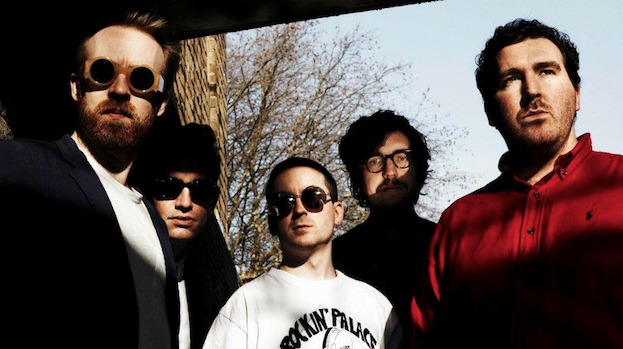 Who likes Hot Chip? This is the question I found myself wondering as I filtered in to Glasgow's ABC. Highly successful, though teetering on the edge of too weird for a large number of chart fans, yet not left field enough for some electroheads, I wondered what sort of fan-base they'd pull, as twelve years later in the game, they've shown longevity in their awkward charms.
Touts continued to try and flog tickets outside, but from the look of the sweltering venue as the doors swung open, you'd have been hard pushed to fit many more people inside.
Scattered around the stage, Hot Chip have spawned and are starting to take on the build of legendary New Yorkers, LCD Soundsystem, who recently hosted their own funeral- Hot Chip's Al Doyle knows only too well. With safety in numbers now taking them to a septet- and not a laptop in sight for that matter- synths and percussion galore cracks the candy-coated shell of their records, for less pop and more dance on their live sound.
Now that we're on the topic of dance, I'm not sure if it's the Friday night effect, the average age of the crowd being a bit above that that you might expect, or just another carefree Scottish crowd at their best, but limbs were writhing in all directions on the floor of the ABC, with not a hipster in sight, as One Life Stand soundtracked.
Keeping their unconventional image wonderfully awful, blinding lights hid the assorted crimes against fashion sported on stage, from tunics to lamb chops, not forgetting Jack Duckworth glasses. New drummer, Sarah Jones, retained her sense of style for the moment, with New Young Pony Club and Bat For Lashes already on her credentials.
Streaming the show together with frenzied wonky arpeggiators, Hot Chip weaved a club vibe, with one of their best known tracks, Over And Over, raising the roof on that. The live rework had some new substance in its offbeat bound, driven by cowbell to make fans into monkeys.
Clearly here for a party and not to reflect, slower tracks with Alexis Taylor's falsetto whine taking lead, failed to make much of an impact on fans, with the limbered up crowd chattering ferociously throughout anything that lowered the BPM to less than 120. After each of these instances, however, the likes of Ready For The Floor would be thrown in, ploughing the crowd rampant all over again.
Casually throwing in Fleetwood Mac's Everywhere between tracks, Hot Chip have really evolved their live sound, with complex layers of synths, electronic and live drums perfectly synced, and various guitars throwing in jarring offbeat rhythms, all over a bounding bass line.
Hold On, from 2008's Made In the Dark was a surprising set highlight with more drama in its rework and stomping drums working along the incessant beat. Overall, although in places the set had great moments, as a whole it felt a little one level, with no gradient to the dynamic, swinging from down-tempo to manic.
Hot Chip played a complex live show well, and fans seemed more than thrilled- "That was like a pure rave in there the night"- but personally, for me, the chips were more warm than hot last night.
Related articles