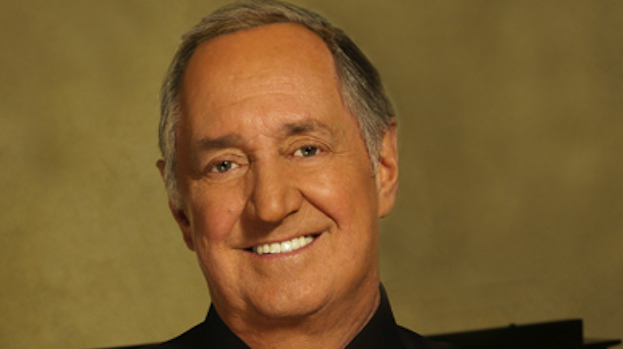 Arriving at the Clyde Auditorium just as the lights dimmed, I was surprised to be met by a security guard in over-sized ear defenders, who looked like she was chaperoning at The Prodigy.
My sudden fears that I was perhaps at the wrong venue were soon put to bed as I noticed the generous whaft of perfume and an abundance of hair that was much higher than it was wide, not to mention the 73-year-old American legend teetering onto the stage and sliding comfortably behind his grand piano.
Like a jolly Grandpa, albeit one with a Hollywood smile that lit up like a reflector in the bright lights, Neil Sedaka played a stripped back set, trying to cram his 60 years of songwriting into one show and narrating his own life along the way. Where was Michael Aspel when you needed him?
After a comic delivery of The Queen Of 1964, with the audience shamelessly singing along, the Brooklyn-based hit maker revealed that at live shows he likes to picture himself at home in New York with family and friends. This explained his ease with the audience, or it could be the fact that this old pro had been in the business from back in the golden years of the 50s.
Stretching back to the beginning of the rock 'n' roll era Oh, Carol had the Glasgow crowd providing less than sweet backing vocals with Sedaka in fantastic humour, his hosting skills as finely honed as you'd expect for a superstar of his era. Racing through his set as fast as a septuagenarian could, Happy Birthday Sweet Sixteen, was another crowd pleaser, with Sedaka telling fans he was going to have to mimic a fade out from his piano as he could never think of an ending for these songs.
Slight weakening of his tremolo vocal could be forgiven, as the show laughed at fluffs in lyrics, or temporary memory loss – a result of Sedaka's frighteningly large back catalogue rather than senior years.
Where The Boys Are and Calendar Girl were delivered to the eager crowd, with Calendar Girl featuring again later in the set, where the music video was projected onto the stage. He joked, "That was the first ever music video, before Lady Gaga." Though watching the footage, I'm sure Gaga has attempted to rock a good portion of the costumes from this video, with Miss August perhaps onto a particular winner.
Speaking of the cull of his music career by those dastardly Beatles, and its subsequent resuscitation through the help of Elton John in 1975, the show looked at the past through rose-tinted glasses, though not so much tinting required when you were selling 40 million records.
After Laughter In The Rain, particularly relevant when you live in Scotland, and a "wee sweetie" from the mature lady to my right, (you just don't get this level of catering at the stadium pop shows next door in Glasgow's SECC), the emotional ol' boy played his most recorded song, Solitaire, best known by The Carpenters.
Still writing new work, generally fuelled on two Martinis, Sedaka then took great pride in playing from his new album The Real Neil, which retained the class of the past and old school showbiz soundtracking.
Amarillo complete with some Tony Christie dance moves – all ending without the dislocation of a hip – took the seated show to a standing ovation for Breaking Up Is Hard To Do.
Several encores later, and the guitar shredding equivalent of the boogie woogie piano world, Neil Sedaka left fans with enthusiastic handshakes and the motion that, at 9.50pm, he must take his sliver hair and twinkle toes to bed.
Leaving long term fans musing over his magnificence, as I treaded past a large pile of vomit, it seems that even some good old-fashioned American rock 'n' roll was just too much for some these days.