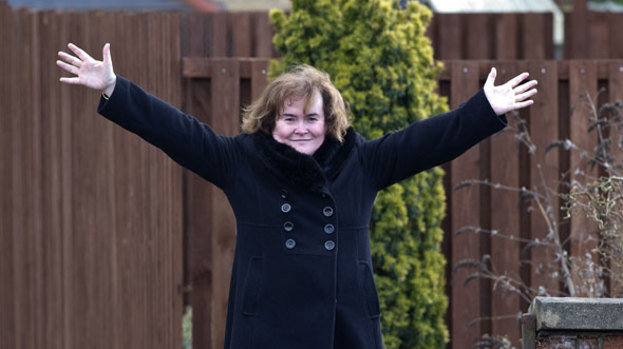 The Scottish singer has sold more than 18 million copies of her previous albums – and now she's tackling "The Greatest Songs From The Stage".
It's hard to remember the time when she surprised Britain's Got Talent with her amazing audition just a few years ago, as Susan Boyle is now a world-famous star, and icon to millions.
Now the singing sensation is returning with an album of songs from the golden era of film and stage, her fourth studio album in three years.
Standing Ovation: The Greatest Songs From The Stage is released on November 19 sees Susan Boyle and world-acclaimed producer Biff Stannard join forces to present a sensational album that will span the generations.
The album showcases duets with lifelong idol Donny Osmond and the "Phantom" himself, Michael Crawford.
The tracklist is as follows:
Somewhere Over The Rainbow
The Winner Takes It All
Send In The Clowns
The Music Of The Night featuring Michael Crawford
Bring Him Home
Memory
As Long As He Needs Me
All I Ask Of You featuring Donny Osmond
Out Here On My Own
You'll Never Walk Alone
This Is The Moment featuring Donny Osmond
The album heralds a return to an era of much loved music for Susan Boyle, a lifelong fan of musicals.
Talking about her album, Susan said: "I have been a fan of musicals since I was a wee girl. I love them and have enjoyed the drama and the range of emotions they inspire in you.
"I still remember the first time I saw Les Mis, my all-time favourite. I fell in love with it and have seen it now countless times as each time you watch it you draw something different."
She added: "Creating this album was a joy and came very naturally as I knew the songs and could identify with the characters in the studio.
"Recording with Donny on two songs was a dream come true. Working with him was awesome and I learned so much from him as a performer and a person. Being in the studio with him was without doubt the best day ever – it wasn't work!"
Donny Osmond said: "I remember watching Susan's debut on Britain's Got Talent.
"I had the same reaction Simon Cowell and the rest of the world had. Susan has the voice of an angel; I consider it an honour that she asked me to be featured on her album."
More About Susan Boyle