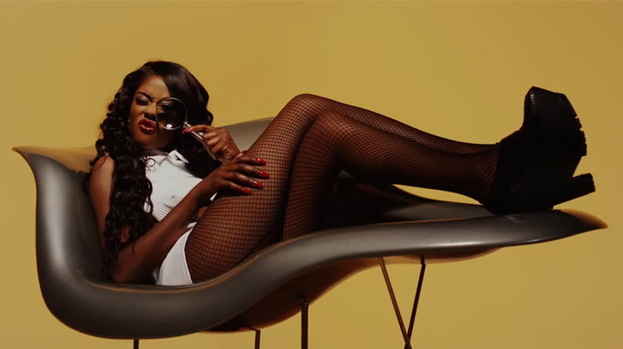 It's like the wild west out there, but fortunately we here at MP Free-Day are willing guides; men with no name (okay, we've got names) who live to explore the wilderness (internet) perched on our horse (chair).
After that laboured intro, let's just get straight to the music. This week we've got some brilliant new Scottish stuff from The Birthday Suit, and a sneak preview of Cuddly Shark's new EP, as well as the last in the Adult Swim singles and a whole heap of other stuff. Enjoy, pilgrim.
Although not exactly a new freebie, we at MP Free Day have been listening to 1991 to death recently and desperately waiting for a full-length album. What better excuse to revisit this one? 212 was one of the best singles of last year, and she's not exactly disappointed with the follow ups; Liquorice might just be the best single of this year. Ms Banks has been trying on a variety of musical styles and so far everything seems to fit. If it works as an album we'll have a genuine great. The single coolest artist in Pop Music in 2012.
The Birthday Suit – Uh huh uh huh
Rod Jones (Formerly?/Currently? of Idlewild) and his band of brothers and sisters have been hard at work on a follow up to last year's rather underrated The Eleventh Hour. You'd struggle to find a harder working band in the country at the moment as the Birthday Suit have been up and down the length and breadth of the country, tickling the parts that are usually missed out. Uh-huh-uh-huh licks along at a rate of knots before turning on a sixpence and bounding off in another direction. More of the same on the second record please!
The Black Opera – All Over Disguise (Apollo Brown Remix)
It's very difficult to categorise exactly what The Black Opera are. Part social media revolutionaries, part politicised hip-hop, part all-encompassing art project, they are made up of (largely anonymous) musicians and collaborators from all over the USA. All Over Disguise is the latest in a series of free downloads they've made available via their website ahead of their third album.
Cuddly Shark – Body Mass Index
Taken from the forthcoming Body Mass Index EP, Cuddly Shark preview another taster (following the deceptively titled Overpriced) with this title track, available for buckshee. My, my, my, it's very good. Years of reading music reviews have led me to believe that a superb, short, snappy piece of alt-rock should always be referred to as "a nugget". This is a perfectly formed bar of gold.
There are 86400 seconds in a day. You won't find a much better way of sparing 124 of them.
Death Grips debut album is probably one of my favourite records so far this year, time travelling back to the very origins of hip-hop and planting evil seeds all over the place. This download marks the last of the Adult Swim series, which have been exceptional. The whole mix tape is now available should you so wish.
Merchandise – In Nightmare Room
Oh, so you are a post-punk band are you? Let me guess, you cite MBV, The Cure, Bunnymen and Fugazi as references? Right… why should I be excited? Anyone who has ever tried to follow a recipe knows that just because you put the same ingredients in doesn't mean that you get the same end product. In Nightmare Room builds like something off Loveless but then, it can't be, are those bongo drums?!
Related articles
People who read this story also read