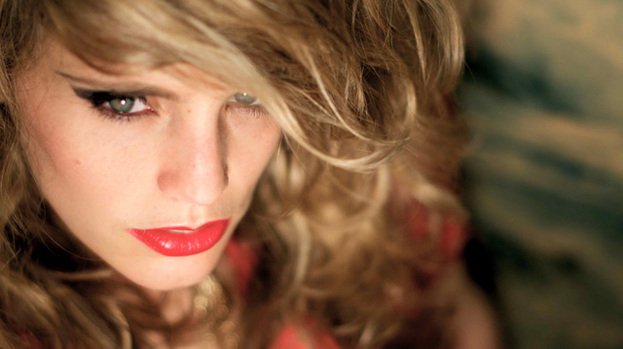 Sometimes you want a hearty meal, sometimes you want a wee nibble of something to see if you like it. This is for the latter urges.
Yes, we've been scrabbling around the internet like the dogs we are, looking for choice morsels to present to you at the end of the week. We think we've found The Good Stuff.
We've not heard much of Calvi's virtuoso guitar playing since her Mercury nomination and rise to prominence, but this cover of the Invisible's The Wall reminds us why she's missed. More new stuff soon, eh?
Okay, so strictly speaking this isn't "new", as it was around a couple of months ago. But we at MP Free-day weren't. Now we are, so we'd like to point you in the direction of this. Are we on post-post-hardcore yet? Not that it matters, Bear Arms fit somewhere into that box, but not neatly. They'll give you an elbow in the eye and a kick in the groin. This has teeth. You can download for free, but why not leave a tip so they can do it all over again.
Frank Fiction is the alter-ego of The Pharcyde's Bootie Brown (aka Romye Robinson), who is offering up early samples of his transformation. Casual listeners might also recognise him as one of the many voices of Gorillaz (live and on record). Intriguing.
Liars - Point Your Pistols to the Sigh
If Liars' WIXIW album was a face-at-the-window document to the feeling of unease, this is the follow up where that same face is now in your house. This is part of the excellent adult swim downloads, which have also featured stuff by The Hives, Flying Lotus and Wavves.
Li'l Wayne - Dedication 4 Mixtape
It's very hard to remember that Li'l Wayne was once an edgy, cutting edge hip-hop artist, rather than the cartoonish pastiche that he's recently seem to become. This might hint that he could step back towards the ledge.
Slicing up Eyeballs - September Mixtape
Yes, last week we featured the August one, but this one is arguably even better. A sample of the new Bob Mould album is a very good place to start, as it sounds absolutely incredible. There's also new Kate Bush and some classics from Morrissey and The The.
Related articles