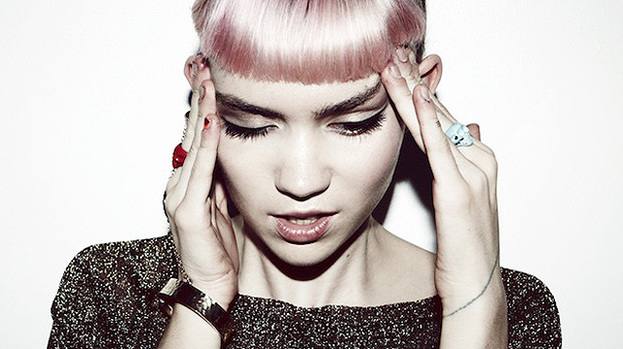 Gaining speed of light momentum after her signing last year to quality label 4AD, Vancouver's Claire Boucher, musically Grimes, was back in Glasgow for a second time this year, this time round taking on a bigger venue at The Arches.
With the slender arch set up of the venue packed, the hot ticket had the hipsters craning their necks to view their hostess in the dim light. Taking to a hot dog stand with cutsie pigtails, on the contrary to her dark beats and distorted bass, the one-woman show became two, in what turned out to be an unnecessary accompaniment from a member of support act, Majical Cloudz, on electronic drum pads.
Triggering, sampling and looping like a slightly more sophisticated toddler with a Fisher Price orchestra at their disposal, the quirky 24-year-old bounded around inside the stand, boxing with Gwen Stefani shapes and Madonnaesque pop roots, to recreate her much talked about album, Visions, live.
Taking her time over manipulating sound waves, atmospheric or proof that the show was indeed scarily live, the spiritual sounds of Grimes were surprisingly conducted more preschool than expected, and it was a wild dancer emulating similar moves to the girl in The Ring that provided the show with it's mean streak.
Controlling vocal loop pedals and layering up her sound, at times I found myself worrying for Boucher, that she might perhaps miss her next trigger or loop. Regardless of scatty appearances, the show ran without a hitch, the ability to ad lib live giving album tracks a fresher feel, Oblivion screeching to an end with some harsher synths and scathing drum n bass.
Pulling crowds too crammed to dance, as Grimes got grimier, (apologies of the unintentional pun), it would almost seem unfortunate that she's so popular, as her sound would be better suited to the bass-heavy freeway of a late night club, rather than a conventional gig crowd, set facing forward with arms pinned to sides by the eight people pressed against your circumference.
Although Boucher didn't interact much with her audience, intrigue and album favourites keep them entertained. Genesis remained a stand out track live, with punchy beats and kaleidoscopic synths, a crowd favourite from her eclectic palate.
Taking a slightly heavier turn towards the end of her hour-long show, 90's dance string synths kept things kooky amongst the bass, veering away from entering any territory too avant-garde, and maintaining that innocent pop bound.
Last night Grimes put on a good show that rendered itself a little passive from time to time, potentially due to limited material as a newer artist in the embryonic stages of her career. Time will tell if the on trend electrostar is seasonal, or whether her sound and on stage persona can continue to develop, for bigger shows and a sustainable career.
Related articles