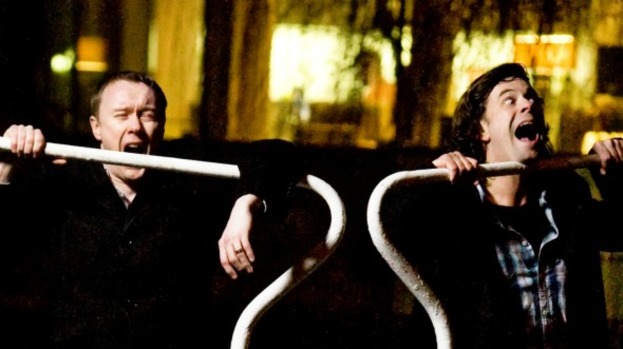 Hello, what's your name, and what on earth are you going to be doing in Edinburgh this August?
We are McNeil and Pamphilon, and we shall be performing our third Edinburgh show at the Pleasance Courtyard. Everyone's telling us the third year is the 'big year' so we're hoping this is our 'OK Computer'. But without 'Fitter Happier' in the middle.

Tell us more about your show.
We've spent the last twelve months coming up with the funniest things we can think of, and we're going to do those in front of some people. Basically, we do sketches, songs, that sort of thing, but all of that's an excuse to character assassinate each other in-front of strangers, for fun.

How are you preparing for your marathon Fringe run?
We've been working non-stop on the show for the last six months so – to continue the marathon analogy – we have been frantically running around for ages, which will either make us athletes at the peak of physical fitness, or exhausted like asthmatic tortoises on a treadmill. Hopefully the former.

Food and/or drink – what do you take to keep you going through the madness?
A balanced diet of budget cider, anti-depressants and Proplus tablets. 'Soss' is also an M&P favourite – we think it's HP sauce with vinegar in it. Whatever it is, it goes well with everything and is wicked tasty.

London's taken some of the hype with the Olympics this year – what do you think is the best way for Edinburgh to grab it back?
Run their own Olympics, but with a more cultural bent. An arts 'festival' if you will.

If you've been before, what's your favourite part of the Edinburgh festivals?
We love handing pictures of our faces to confused tourists, so the flyering remains an annual highlight.

What would be your biggest piece of advice to any performers coming to Edinburgh for the first time?
In a city like Edinburgh, it's very easy to feel you have to do everything straight away. Like you said earlier, it is a marathon, so try to give yourself a break every few days or by the end of the month you'll get that 'You've not let me down, you've let yourself down' chat from your GP.

Whoever else are you most excited to see in Edinburgh this year?
There's so many shows we want to see – top tips from us would be The Beta Males, Thomas Nelstrop, Jim Campbell, Jay Foreman, Monkey Toast, Bob & Jim, Jigsaw, Late Night Gimp Fight and Ed Eales-White. They're all awesome, though we could easily list 50 more.

What's been your most memorable festival experience?
Our first good review. Despite convincing yourself that it's just one person's opinion and it doesn't matter, there's nothing better for massaging a fragile ego than someone you've never met saying you're awesome. We're pathetic.

Any favourite Scottish word/phrase?
'King Rib Supper'. It's a week's worth of calories in one convenient slab of deep fried pig fat. Delicious, especially with 'soss'.

And what would be your best tip for any punters coming to their first Fringe?
Rather than spending a fortune on one ticket for Mr Famous at the Mega Stadium, spend the money on five things you've never heard of for a few quid a pop – one of them will definitely be your highlight of the festival.

McNeil & Pamphillon, Pleasance Courtyard, 16:30. Tickets from edfringe.