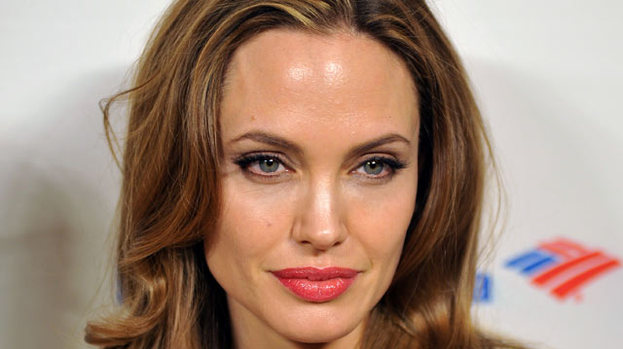 Angelina Jolie is said to be "dead-set" on landing a leading role in the movie version of 'mummy porn' book Fifty Shades of Grey.

The erotic novel has become an overnight sensation, with women around the globe rushing out to get their hands on a copy of the book, which includes descriptions of a number of graphic sexual scenarios involving bondage and S&M.

Ange is thought to have become hooked on the book after hearing about it while shooting scenes for her latest movie Maleficient, and is now determined to be involved if a film version is being made.

"Angelina kept hearing about the book while she was in the UK," a source is quoted telling the Daily Record.

"It's a big craze in America too at the moment, but she was swept up in it while over here.

"All the girls on set were talking about it and chatted about how it's being made into a film."

The source added: "Angelina went out and bought herself a copy, thinking she'd love a part in the hot topic on everyone's lips at the moment. She knows it's bound to be a huge hit."

Angelina has been very open about in the past about her desires, her lovers and her bisexuality, so playing the lead role of shy, timid character Anastasia Steele might not seem like the ideal part for the actress.

But she is said to have set her heart on playing the part. The source continued: "Ange is dead set that she wants to have a major part in it and the demure girl is the only main female lead. She's up for the challenge."

Angelina is not the only star who has made her wishes about a part in the movie version of Fifty Shades of Grey clear.

Emma Roberts admitted she would love a role in the saucy movie, saying: "I haven't read it, I don't even understand, but yeah, it sounds awesome. Anything racy, hot. Sure, let's get hot."

Kristen Stewart also said she wouldn't rule out a role in the movie. Speaking to Australia's Moviefix, the star said she'd make her mind up after finishing the story, commenting: "I don't know yet, I haven't finished reading the book."

Other stars said to be hooked on the novel include singer Justin Bieber's girlfriend Selena Gomez and teen singer and actress Miley Cyrus.
MORE ON THE BOOK:
People who read this story also read