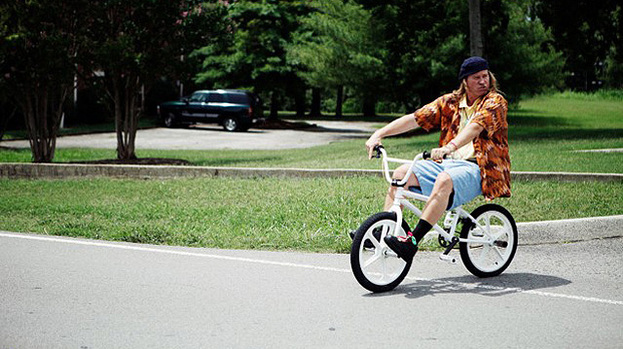 By Ross Maclean
Where to begin with The Fourth Dimension? Well, the film begins with a series of quotes from Albert Einstein, Sergei Eisenstein and Back to the Future Part III, before moving on to explain the instructions given to the three filmmakers responsible for the separate short stories within the film. It's all very Dogme 95 and more than a little confusing.
The rules never really seem to be enforced and the films only tangentially relate on a unifying theme of a higher plane; the fourth dimension of the title. First up director Harmony Korine, shooting in an extra-widescreen format, presents Val Kilmer (playing a version of himself) as a motivational speaker. He spouts wisdom and chants bizarre mantras like "velvet killed Elvis" to a crowd of whooping followers, all the while parading around a neon-lit roller skate rink with his every utterance punctuated by incongruous sound effects. It really is that sort of film.
It might not make any sense but there's something about it that works. Val frequently addresses the camera directly, breaking the fourth wall (or dimension?), and even contributes an auto-tuned song to the film's soundtrack. It's a bold opening that is lacking in depth but a lot of fun to watch. That's why it comes as such a jolt when this story gives way to a Russian sci-fi set against the grey dullness of dilapidated Soviet tower blocks with not an inch of neon in sight.
Anthology films like this can really work and, quite often, the more disparate each element is, the better. That's certainly the case between the first two stories here. The change of pace in Aleksei Fedorchenko's tale is a welcome respite from Val's admittedly hilarious nonsense. Grigory Mikhailovich (Igor Sergeev) uses a time machine to view events from history only to be disappointed by the narrow pointlessness of his gaze each time. It's a film about frustration but has elements of a sweet, burgeoning love story between this loner and his vibrant upstairs neighbour Valya (Darya Ekamasova). It's thoughtfully paced and the performances and locations are fantastic.
It's a shame that the third film lets it down so badly. Moving now to Poland, director Jan Kwiecinski's tale is another with sci-fi overtones. It's a nightmarish vision of an apocalypse where seemingly only hipsters remain roaming the earth. Dressed like they're on a shoot for an American Apparel advert, four pretty waifs wander through people's abandoned houses and mess around with found objects – and that's about it. It gets tedious very quickly and only really picks up just as it ends.
It's unsurprising this comes from the Vice films stable as, at times, it does feel like leafing through a copy of Vice magazine. It's a film that almost completely defies explanation and even the filmmakers abandon their own rules immediately after informing us of them.
It might have helped to reorder the films in order to start slowly and build to Korine and Kilmer's bolder, more accessible work but it's very nearly a success. It's almost like one of those fold-over story games where each new person takes it in a wildly different direction, unaware of what has come before. It's a daring, playful gamble to take but for the most part this peculiar experiment does pay off.