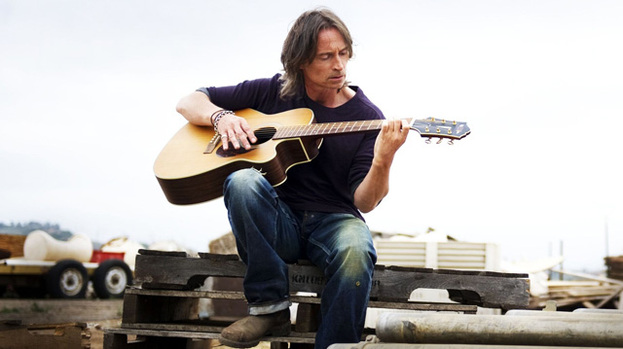 By Ross Maclean
Robert Carlyle makes his first appearance in a lead film role since at least 2009 in Marshall Lewy's character drama, California Solo. As you might expect from the geographical title, Carlyle has swapped Caledonia for California as Lachlan MacAldonich (much is made of American attempts to pronounce that handle), a former Britpop star living the quiet life in the verdant rural idyll of The Golden State.
Working on a farm and with his past glories firmly behind him since the death of his brother and band mate, Lachlan's contented life is threatened when he's picked up for drunk-driving. As an ex-pat Scot it proves problematic for his visa, not to mention it dragging up a previous conviction dating back to his hell-raising days.
Carlyle has a gamut of conflicting emotions and story strands to contend with in Lachlan – and he's more than up to the challenge. There's a blossoming attraction to local girl Beau (Alexia Rasmussen), an increasing dependence on the bottle and the problems of living hand to mouth. He even hosts a podcast about dead rock stars when it's clearly a sensitive area in light of his brother's demise. It's a Molotov cocktail of inner turbulence that's just waiting to go off.
The beauty of Carlyle's performance of Lewy's script is that it never does, at least not in the way you might expect. There are certainly scenes where Lachlan gets to let off steam in a way that only a Scotsman can, but it's more of a quiet implosion as the tragedy of his character's arc comes to light. It's a slow-motion car crash unfolding before your eyes as his life and personal relationships dissolve around him. He isn't a blameless party in all of these events and he's knows it.
It's emotionally complex stuff and a slow-burn character piece, designed to showcase Carlyle's talent. He still has the swagger and the patter we've come to know him for but he's now at a stage where every line on his face tells a story. He's become one of those characterful actors able to convey everything that's required with just a facial expression, whether that's the insouciance he shows in formal situations or the way he conveys his self-loathing.
As a film about a musician, it's of variable authenticity. Occasionally the script drifts towards clichés about the rock star lifestyle and there's a note of falseness when names like Mick and Iggy are dropped awkwardly into conversation. What it does get a handle on are the Britpop references and a strikingly convincing jangly single by Lachlan's former band, The Cranks.
They say there's nothing new under the sun and there's certainly little new in this story of a man in search of redemption, or at least a search for a sense of inner peace by outrunning his past. An estranged wife and daughter are a step too far in a film that's already overloaded with baggage but it's hard to grouse when all the familiar elements of the story are handled so well. There's subtlety in the handling of powerful scenes and there's a podcast recording here that will have you sniffling into your sleeve. Not a phrase you're likely to hear very often.
It's rarely a film that will take you by surprise but it is one that will leave you pleased that it hasn't overplayed things by the time of the nicely pitched ending.
There are shades of previous angry young men he's played in the past but this is something we've not seen from Robert Carlyle in some time. While this might not be his most iconic role, there's every chance it's his finest hour so far as an actor.
People who read this story also read