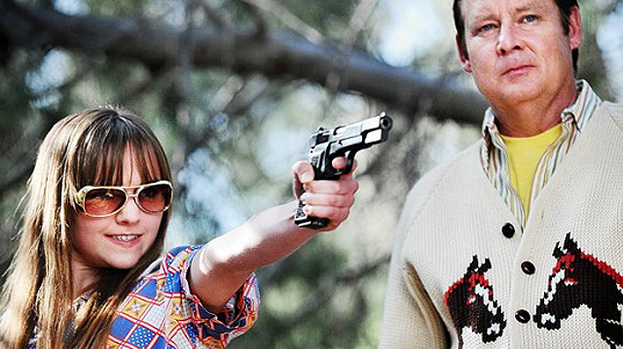 By Ross Maclean
Probably still best known over here as Zed from the Police Academy series of films, Bobcat Goldthwait has been directing films for the last few years including indie comedy Sleeping Dogs and the Robin Williams-starring World's Greatest Dad. What links those films and certainly links God Bless America is an anarchic, dark and misanthropic view of the world we inhabit. With this look at contemporary America it's safe to assume he'll be persona non grata with a few powerful figures for some time.
Within the first five minutes of the film, Goldthwait has set out his stall and it's not going to be pretty. By showing Frank (Joel Murray, brother of Bill) flicking through TV channels we know immediately what his bugbears are – what he sees as the meanness and pointlessness of a lot of contemporary culture, from right-wing church groups to annoying ringtones. He's down-at-heel, out of a job and has nothing to lose and so decides to take matters into his own hands and start murdering those he sees as responsible.
It is dark stuff and there's darker yet to come as he teams up with a schoolgirl 'assistant' Roxy (Tara Lynne Barr) in order to continue his rampage across the States. Both are railing against the way the culture of the media pervades and invades everyday life and feel directly affected by it. As a couple of mismatched partners it becomes a buddy comedy of sorts.
It does get particularly touching at points when it needs to be and Frank and Roxy's relationship is sensitively handled with boundaries clearly defined. Just filling a movie full of takedowns is one thing but it also manages to be dramatically satisfying. There are serious points to be made among all the baiting and it goes about its business in scabrous fashion.
One of the angriest films in recent memory it's a real broadside and no subject is off limits or considered too taboo. It's somewhat of a surprise it got made at all considering the venom in how directly it attacks certain figures in the media industry.
Some elements are strangely contradictory and borderline hypocritical as the film seemingly venerates the killers in just the way they would hate. You have to assume Goldthwait is wagging his finger and letting us know we're all culpable.
That is evident in the fact that there is undeniably a perverse sense of joy in watching the spree and for that reason it is bound to be a controversy magnet. With shades of John Waters' Serial Mom, no-one in the audience is safe from at least one barb being aimed at them. One scene is certain to appeal to anyone who's ever grown angered by people talking in the cinema.
It's destined to be a bad taste classic and it certainly has a strong authorial voice. It's just a shame that by the end it all feels a bit one-note. We get that you're angry, Mr Goldthwait. Like reading Charlie Brooker's old Screen Burn columns for nearly two hours straight, there's a lot of bile to get through but it is immense fun doing so. Harsh and uncompromising but heartfelt and occasionally sweet, this is Natural Born Killers for the Jersey Shore age.
People who read this story also read