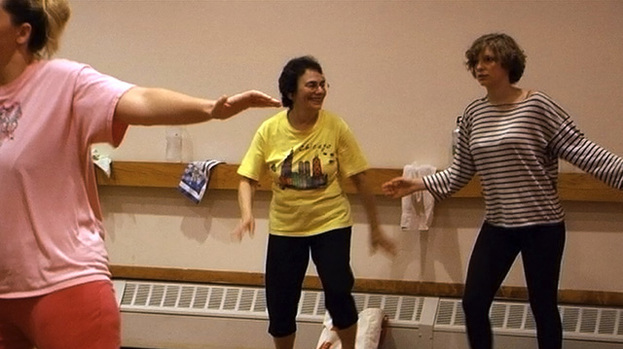 By Ross Maclean
Shot and put together with a miniscule budget and largely utilising friends and family as actors, director Nathan Silver's Exit Elena is a lo-fi comedy-drama about a live-in aide and how she adjusts to life in the lap of her employers.
We meet Elena (Kia Davis) as she's finishing her training to become a nursing assistant and before long she's hired by the Akermans to take care of elderly Florence (Gert O'Connell). Mother Cindy (Cindy Silver) is a dervish of constant chatter and her husband Jim (Jim Chiros) isn't exactly above the odd inappropriate conversation himself.
Elena makes for an enigmatic central character. Rarely driving the film, she's a friendly but withdrawn hipster type and all the more fascinating for it. There's a deadpan brilliance to the performance and her incredulity at the situation shines through. It's because, as an audience, we're experiencing every awkward moment with her that we really empathise.
It would be fair to say this isn't a film that's overly concerned with having an energetic plot. For most of its lean running time, it ambles along quite nicely presenting us with short dated snapshots of daily life in the Akerman household. There is very funny stuff in there but it doesn't come in the form of finely honed gags. It's crammed full of observational gems about essentially being paid to be part of a family unit but knowing just how much you don't fit in, with a Zumba class, which Elena is dragged along to, a perfect illustration of these comic highlights which pepper the film.
It's not to say that the film is an all-out comedy. It has as much to say about the current job market and the way employers treat employees as it does about the inanity of dinner table small talk. Elena's pent-up angst is the elephant in the room during just about every scene in the film.
There's something really honest about the resigned way in which Elena accepts her 'adoptive family' and, like life itself, the way relationships develop within the film aren't always the way they might initially seem to be going. This aspect is really sold by the performances which certainly have an amateur air about them but there's something completely natural in that. When one of the actors (presumably inadvertently) breaks into a smile at an inopportune moment, it just adds to the charm.
With the arrival of the Akermans' son Nathan (director Nathan Silver) the plot amps up a bit with his infuriating man-child really changing the family dynamic, and therefore Elena's semblance of normality. Split into three chapters, it does rush the third when it could have been a bit more evenly spaced but it has a fitting ending, which is something that can't be said for many of this type of film.
Shot in a nearly square 4:3 format, it might look a bit out of place up there on a cinema screen but it's designed to look like a home movie and it very much achieves that ambition. It feels unstaged as if you're simply observing a real family go about their business, full of circular conversations and fumbled words.
It takes a while to get going but it's a refreshing change of pace which allows us to draw our own inferences from the situations and work a little harder to get to that nugget of comic gold. While special dispensation shouldn't be made based on means, this is endearingly rough around the edges. It certainly can't hide the pacing flaws and its improvised script but there's plenty to admire.