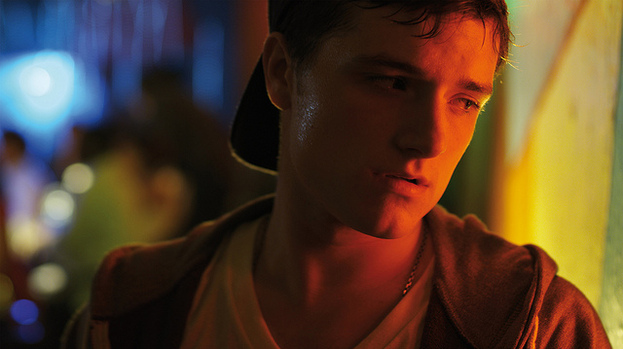 By Ross Maclean
7 Days in Havana, as the title might suggest, offers us seven stories across seven days from seven different directors, all set within the Cuban capital. There's a broad mix of genres from romantic melodrama to sinister quasi-horror but, like a strong rum and Coke, there's a need to take the rough with the smooth. Like most portmanteau films not every part is entirely successful.
It opens pleasingly enough with Benicio del Toro moving behind the camera to direct the tale of a young American, Teddy (Josh Hutcherson), an outsider like us discovering what the city has to offer. Being a hot blooded young male, that largely involves the quest for a señorita. It's all gentle enough and del Toro has a nice eye for visuals but it never really goes anywhere.
As each day arrives there's a period of readjustment and, if you're aware of Gaspar Noé's involvement, a certain degree of playing 'guess which part Gaspar Noé directed'. As it happens, he doesn't show up until Friday by which point there is absolutely no mistaking his style. It's little surprise he goes way off course and his segment sticks out within the film by having no dialogue and featuring the darker subject of a voodoo ritual intended to 'cure' a young woman of lesbianism. There's a repetitive pounding drum beat and it's so dimly lit that it's a deeply unsettling experience. It's nice to see that the Caribbean sun hasn't mellowed Mr Noé at all.
The rest of the days are a mixed bag. Some seek to capture the musical soul of Cuba; others seek to capture a slice of everyday life. One intriguing section follows Serbian filmmaker Emir Kusturica as he drinks, collects an award, drinks again and attends a jam session. Another clunkier piece charts the dilemma of a young singer who needs to decide between her life in Havana with her lunk of a boyfriend or the romantic ideal of a new life in Spain with a slick young music producer (Daniel Brühl).
There's a vibrancy to the multi-faceted look of the city and it's a credit to screenwriter Leonardo Padura that he has managed to give each day an entirely different sensation. It does dip in the middle and by the time Thursday's fish out of water piece rolls around, you'll never look forward to a weekend so much in your life.
Thankfully the weekend starts with a soap opera about collapsing meringues and Sunday is an entirely charming rough-hewn comic piece from Laurent Cantet about an elderly matriarch's attempt to build a shrine in her front room.
There is an unwelcome attempt to tie the stories together through recurring characters and it sits uneasily with the different styles. It's always a temptation in this type of film and it's an unnecessary distraction (particularly when one character even shatters the filmic illusion by alluding to the fact they know that they're in a film).
It might not have an all-star cast but it has a pleasingly European sensibility. As city-set anthologies go it's a welcome change from the love letters of Paris, Je T'aime and New York, I Love You. It's still entirely in thrall of the place it depicts but there's the sense that you're getting a more warts and all picture of everything that makes Havana what it is.
Some parts are more successful than others, often by a long stretch, but there's no denying the overall ambition of the project. Of seven short films, four or five of them are good. That's a pretty decent hit rate for a film of this type and certainly worth spending your week there.
People who read this story also read