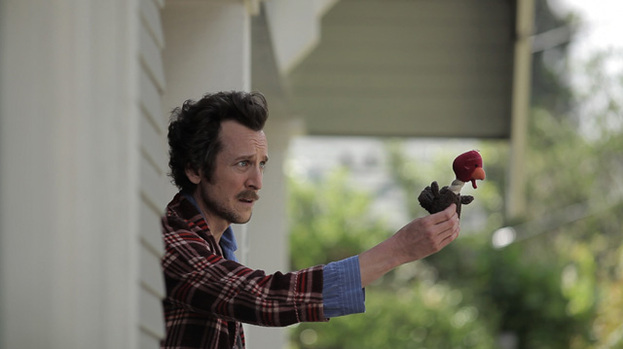 The festival's artistic director Chris Fujiwara has this morning announced details of his inaugural programme for the 66th edition of the Edinburgh International Film Festival, which takes place next month and will host 19 world premieres and 13 international premieres.
EIFF runs from 20 June to 1 July, and will showcase 121 new features from 52 countries, including 11 European premieres and 67 UK premieres in addition to the world and international premieres.
Highlights include the World premieres of Richard Ledes' Fred; Nathan Silver's Exit Elena and Benjamin Pascoe's Leave it on the Track and European premieres of Lu Sheng's Here, There and Yang Jung-ho's Mirage in the maiden New Perspectives section; and the International premiere of Benicio Del Toro, Pablo Trapero, Julio Medem, Elia Suleiman, Gaspar Noé, Juan Carlos Tabio and Laurent Cantet's 7 Days in Havana and the European premiere of Bobcat Goldthwait's God Bless America in the Directors' Showcase.
In addition to the new features presented, the Festival will also host 29 older titles in Retrospectives and Special Screenings, bringing the total number of feature films to one hundred and fifty across the twelve-day event.
EIFF artistic director Chris Fujiwara said: "Our programme reflects the exceptionally vibrant state of current cinema.
"Our audiences will be able to explore a wide range of outstanding films from around the world, including work by established masters and films from new and emerging talents. There are also some no less exciting discoveries to be made this year in our Retrospectives.
"Altogether it's a rich and diverse programme that tells, I believe, a fascinating story about where cinema is today, what it can learn from the past, and where it is going in the future."
As previously announced, the 66th Edinburgh International Film Festival opens with William Friedkin's Killer Joe and the Closing Gala will be the European premiere of Disney/Pixar's Brave.
British films competing for the Michael Powell Award will include, for the first time, documentaries contending alongside narrative films. Among them are seven world premieres: Peter Strickland's Berberian Sound Studio; Day Of The Flowers by John Roberts; Katarzyna Klimkiewicz's Flying Blind; Maja Borg's Future My Love; Alex Barrett's Life Just Is; One Mile Away by Penny Woolcock and Pusher by Luis Prieto.
The Michael Powell Award contenders, which also include Bart Layton's The Imposter; Shadow Dancer by James Marsh and Martin Wallace's Small Creatures, also compete for the award for Best Performance in a British Feature Film.
The International Feature Competition, supported by Innis and Gunn, hosts a selection of new films from around the world and includes the world premieres of Mao Mao's Here, Then and Alexandre O Philippe's return to EIFF with The Life And Times Of Paul The Psychic Octopus.
The International Feature Competition includes, for the first time, documentary films alongside narrative films. International premieres competing for the award are Jang Kun-jae's Sleepless Night and Dan Sallitt's The Unspeakable Act; while other titles include One.Two.One by Mania Akbari; Oskar Alegria's The Search For Emak Bakia; Yeon Sang-ho's The King Of Pigs; David Zellner's Kid-Thing; Maite Alberdi's The Lifeguard and Tabu by Miguel Gomes.
Two films are by co-directing couples: Clarissa Campolina and Helvécio Marins Jr's Girimunho and Anka Sasnal and Wilhelm Sasnal's It Looks Pretty From A Distance. Gastón Solnicki's Papirosen and A Woman's Revenge by Rita Azevedo Gomes round out the International Feature Competition.
Spotlight on Shinya Tsukamoto and Spotlight on Wang Bing bring together a collection of their films, including Japanese cult director Tsukamoto's latest project Kotoko, and culminating in a masterclass with Wang Bing, who will discuss his documentary filmmaking career.
Accompanying their respective films, ¡Vivan Las Antipodas! and California Solo, director Victor Kossakovsky and actor Robert Carlyle, EIFF Patron, will also have on-stage In-Person events, with Victor Kossakovsky presenting a Masterclass, while Robert Carlyle is the subject of 2012's In Person: BAFTA Scotland Interview.
Jules Bishop's Borrowed Time, Steve Rainbow's NFA and Scott Graham's SHELL are the three World premieres in the new British Scenes section, where it is joined by Bryn Higgins' Unconditional, in a strand introducing films from the UK that are made by new filmmakers, that try out non-traditional funding models or that venture into unusual thematic areas. What Is This Film Called Love? by Mark Cousins receives its World premiere alongside Nicholas Ray's We Can't Go Home Again and Susan Ray's accompanying Don't Expect Too Much in the new Films on Film section.
The late-night Night Moves strand sees the world premiere of Ian Clark's Guinea Pigs and the European premiere of Jon Wright's Grabbers, both from the UK, and other titles include Eddie – The Sleepwalking Cannibal by Boris Rodriguez; Eric Wareheim and Tim Heidecker's Tim And Eric's Billion Dollar Movie; the multi-directed V/H/S; Quentin Dupieux's Wrong and Magnus Martens' Jackpot, based on a story by Jo Nesbo.
Highlighting EIFF's global curatorial expanse, the Philippine New Wave examines the creativity of young independent Filipino filmmakers. The Directors' Showcase presents work from the established auteurs of our time. EIFF continues to showcase Scottish, UK and international shorts in a series of programmes which include Romola Garai's directorial debut . The experimental Black Box section presents a series of shorts programmes from innovators of the visual art world. The world of art is also represented by four free exhibitions and events across Edinburgh.
Special Screenings and Festival Events throughout EIFF include the new digital restoration of Lawrence Of Arabia, marking the 50th anniversary of the masterpiece, as well as Penny Woolcock's One Day, Margaret Tait's Blue Black Permanent, Harmony Korine, Aleksei Fedorchenko and Jan Kwiecinski's The Fourth Dimension and the previously announced World premiere of the London 2012 Festival-commissioned films by Lynne Ramsay, Mike Leigh, Asif Kapadia and Max Giwa and Dania Pasquini.
And for the first time this year EIFF is introducing Pathways. Each Pathway is a group of films, selected from across the different strands of the EIFF programme, that are linked by common themes or that appeal to particular tastes. Pathways include Teenage Kicks (films for 15-year-olds and upwards); Played for Laughs (films for comedy lovers); Relationships (films on love, couples and relationships) and Community & Conflict (films on themes of power, responsibility and history).
After splitting from the venue last year, it was yesterday announced that EIFF will again be teaming up with Cineworld to show films at its Fountain Park cinema.
The world, international and European premieres are as follows:
World Premieres:
Berberian Sound Studio
Borrowed Time
Day Of The Flowers
Exit Elena
Flying Blind
Fred
Future My Love
Guinea Pigs
Here, Then
Leave It On The Track
The Life And Times Of Paul The Psychic Octopus
Life Just Is
MNL143
NFA
One Mile Away
Philippine New Wave: This Is Not A Film Movement
Pusher
Shell
What Is This Film Called Love?
International Premieres:
7 Days In Havana
Attractive Illusion
California Solo
Evelyn
Flicker
Forever Loved
Of Skies And Earth
Riding Zorro
Sleepless Night
The Suburban Trilogy
Sun Don't Shine
Tondo, Beloved: To What Are The Poor Born?
The Unspeakable Act
European Premieres:
The 99 Unbound
Brave
God Bless America
Grabbers
Here, There
The Imposter
Mirage
One.Two.One
The Search For Emak Bakia
Tokyo Drifter
Young Dudes
MORE ON TODAY'S LAUCH
People who read this story also read