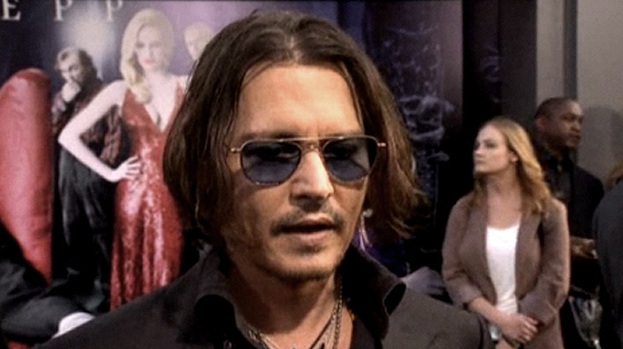 Robert Pattinson might have been the hottest vampire around after his appearance in the Twilight series – but star Johnny Depp is offering a very different take in the latest Tim Burton movie.
Dark Shadows was originally a 60s horror soap opera – yesterday evening three of its highest-profile fans were on the Hollywood red carpet: actor Johnny Depp, director Tim Burton and actress Michelle Pfeiffer, who were all involved in the film version that's out in UK cinemas this Friday.
Pfeiffer said: "I loved the original series, because there was nothing like it on TV.
"And I loved vampires, and I loved scary. And it was a sort of vampire soap opera. And it was the first one on television, and we were as obsessed as kids are today with Vampire Diaries and all of the various vampire series on television."
"Johnny was a fan," added director Burton, "Michelle was a fan, we were the people on the cast and crew that were the original Dark Shadows fans."
However, perhaps the biggest fan was Depp, who purchased the big-screen rights to the TV series some seven years ago, and – along with Burton – was careful to involve members of the show's original cast in the film.
Among them was actor Johnathan Frid, who played Depp's character, the vampire Barnabas Collins, and who died last month – but not before making an appearance on the set and meeting Depp and company.
Depp recalled: "I was so, sort of honoured and blessed to have his passing of the baton.
"And he was incredibly supportive and incredibly gentle about me using his character that he created as the basis for mine, and I did it out of sheer respect and a salute to the man, and he is sorely missed."
He also didn't rule out a sequel: "Boy, if the circumstances were right.
"As long as Tim was game and [writer] Seth [Grahame-Smith] was game, and Warner Bros. was game, I'll be happy to step back into his shoes."
People who read this story also read