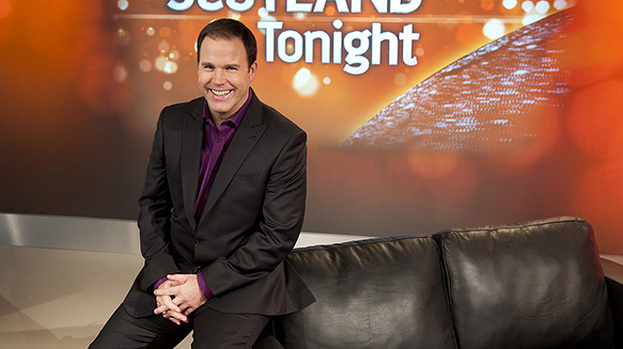 Already well known for his STV presenting work and also as an author, now John MacKay has turned his attention to the big screen, with famed Scottish actor David Hayman now on board to direct the film adaptation of his best-selling novel The Road Dance.
You might have thought he would be busy enough putting his finger on the pulse of Scotland's news agenda through STV News at Six and Scotland Tonight, but John has also written three books all based in the Isle of Lewis – the first of which has now been taken on by a Glasgow-based production company.
John revealed to us that after The Road Dance was published a lot of people said to him that it had a cinematic feel to it. Taking their advice, he then went on to adapt it as a screenplay.
Of its development, he explained: "At the moment Sorbier Productions are seeking funding to transfer it from the page to the screen. There has been encouraging interest so far and some funding has been secured.
"There is a long way to go, but we believe that 'The Road Dance' would be a powerful film. David Hayman's association has given it added impetus."
So how did the well respected TV and stage actor/director come to be involved in the project? John said: "David was one of those who said to me that he thought the book would make a great film.
"At the time he was deeply involved in his charity Spirit Aid, but more recently he's returned to acting and directing. I approached him and he was immediately enthusiastic. To have someone of that calibre associated with The Road Dance is a huge boost."
The novel is a love story set against the backdrop of the First World War, with the villagers holding a Road Dance to send their young men off to battle. It is a night of emotion and excitement and the wheels of tragedy are set in motion...
"When I heard a story that became the basis of The Road Dance, I knew it would become the novel I'd always wanted to write," John explained. "I had no publisher at the time, so there was no deadline and I just wrote it when I had the time."
Best known as a news anchor, he added: "Fiction writing allows greater freedom than news writing, which has to be tight and succinct. It is a complete contrast and I revel in it."
And finally, we just had to ask: is there any plans for John to have a starring role in the film?
He joked: "I want the movie to be a success. For that reason alone, I would not even think of appearing in front of the camera."