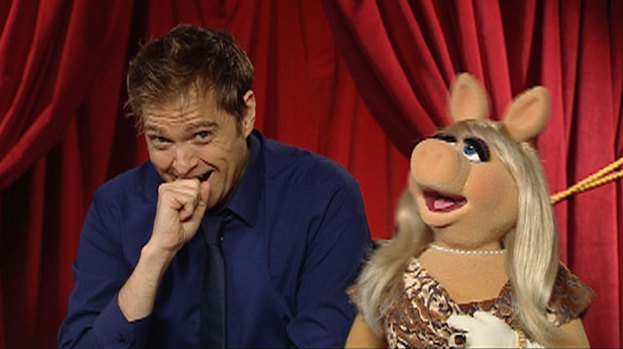 Kermit and Miss Piggy are one of the longest running showbiz couples, with an onscreen love affair lasting more than 35 years.
The pair have teamed up with Amy Adams, Jason Segel and the rest of the Muppet gang for their latest movie adventure, their first in 12 years.
Miss Piggy, Kermit and the gang get together to stage a telethon to raise money to save the original Muppet studios from a dastardly oilman.
STV's Grant Lauchlan caught up with Kermit and Miss Piggy, who are co-presenting Moviejuice this week with him, to find out why it's taken them so long to make another movie.
"I was online shopping and then poof! It was 12 years since I'd made a movie," Miss Piggy told him.
Grant has rated Miss Piggy one of his top divas above previous interviewees J Lo and Julia Roberts, and her diva behaviour was in full force when was asked to try on a tartan hat.
Complete with fake hair, Miss Piggy was less than impressed with her new headgear and looked disgusted when she tried it on. "Yeah, it's really fashionable," she moaned sarcastically. Oh dear…
Kermit, on the other hand, was delighted with his hat and told Grant: "If I'd found this hat before then we'd have had a movie much sooner."