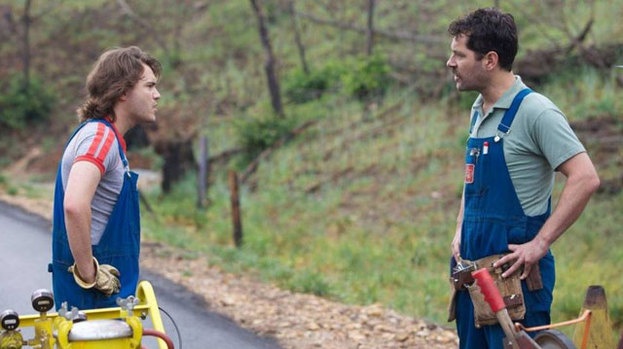 Paul Rudd has taken an indie turn and ended up in Bastrop, Texas. In his new movie, Prince Avalanche, the comedy actor stars with Emile Hirsch.
Directed by David Gordon Green, it's a remake of the 2011 Icelandic film, Either Way. This version takes place in rural Texas in 1988 with Rudd and Emile Hirsch spending the summer painting yellow lines on a country road after the area was devastated by wildfires.
While it's mostly a buddy film, Rudd thinks the isolation and personal themes would play well on stage, and also said the costumes were reminiscent of a popular video game character.
"Those blue overalls," he noted. "When we had the fitting that first day, there were a lot of Super Mario Brothers jokes. David kind of did that intentionally, I think.
"It was never really said. I think. I don't know. But we did talk about it, and then the moustache did add to it, didn't it? That just kind of happened. I grew the moustache before I knew I'd be wearing blue overalls."
Green, known for directing films like Pineapple Express, and All the Real Girls, as well as the HBO comedy series, Eastbound and Down kept the film on the down low. But Rudd doesn't feel it was shot secretly.
"It wasn't that we were trying to keep anything a secret," he explained. "The idea to even start this thing was David saying 'let's get some cameras and go out in the woods. And I found this Icelandic movie, we should go remake this.'
"It was almost 'let's do something for us that we would be artistically and creatively fulfilling and we're not beholden to the studio. We're not beholden to anybody else."
Prince Avalanche is out in the UK on October 19.
People who read this story also read