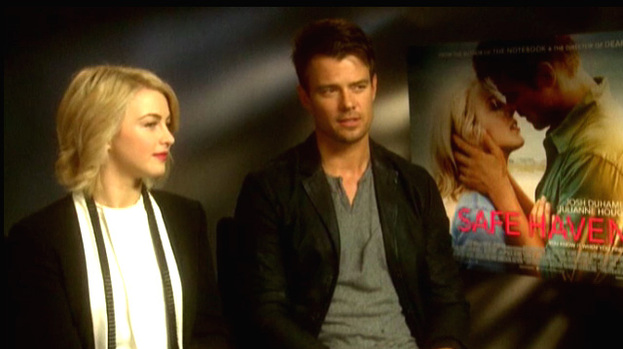 It's easy to understand why Hollywood loves doing business with author Nicholas Sparks. His books are huge best-sellers, and several of the films adapted from his novels - Message in a Bottle, The Notebook, and Dear John - have achieved impressive box office grosses.
The latest Sparks adaptation, Safe Haven, hopes to continue his winning streak.
The movie centres around Katie (Julianne Hough), a young woman who runs away from a toxic marriage in Boston, boards a bus, and on a whim gets off in a small seaside community in North Carolina.
There she meets a sensitive widower, Alex (Josh Duhamel), raising two young children on his own.
Because of their troubled histories, they approach each other warily, but soon fall for each other. However, a nasty blast from Katie's past arrives to threaten her newfound bliss.
Safe Haven was filmed on location in Southport, North Carolina – the town where the book is set.
For the actors, filming by the sea was a big bonus. In fact, Duhamel's pop star wife Fergie (of Black Eyed Peas fame) loved visiting him on set.
"My wife came out a couple of times and loved it, he explained. "If she could have she would have stayed the whole time. It's one of those places that I don't think either one of us will forget.
"It's as picturesque as it looks in the movie."
As well as filming in the beautiful town, Hough and Duhamel also had a great time working with their young co-stars Mimi Kirkland and Noah Lomax, who play Alex's kids.
"Greatest kids on earth," says Hough. "Especially when little Mimi for instance, who plays Lexie, you haven't seen her for 10 minutes and she runs up and jumps and straddles you and is like 'I missed you so much.' It's like how do you not just melt every time that little girl just looks at you?
"And Noah is just the cutest. He was so excited at the premiere and so cute. So yeah, it was an easy job working with those two, they were great."
Sparks also explains in the video above how he enjoyed working on the film. The author was one of the producers and was heavily involved in the casting.
Safe Haven hits UK cinemas on Friday March 1.