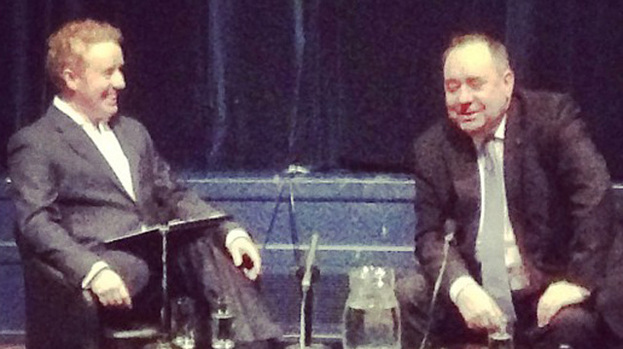 Only in Scotland could the nation's leader grace a film festival with his presence, then make the audience watch a notorious dud starring Natasha Henstridge (her out of Species), hard man Jason Statham and gangsta rapper Ice Cube.
However, even if First Minister Alex Salmond showed questionable judgement when it came to deciding the programme at the Glasgow Film Theatre last night, he proved himself to be one hell of a geek, in the best possible sense.
And, strangely enough, his decision to choose John Carpenter's Ghosts of Mars for the Glasgow Film Festival's Geek Night Special – which seemed bizarre when announced – actually paid off extremely well.
For those unaware, the Geek Night series was started by Scottish comics king Mark Millar, and has seen a variety of star guests – including Ian Rankin, Frankie Boyle and Robert Florence – screen their favourite genre film at the GFT, their choice of movie preceded by a Q&A with Millar and a hard-edged geek quiz.
Both suited and in fine spirits, Salmond didn't mince his words when asked by Millar about Ghosts of Mars.
"It's a really bad film," he admitted up front to laughter, adding that what interested him about the film is that it could have been great, but circumstances behind the scenes – the intended lead actress pulling out and short-notice replacement Henstridge falling ill during shooting – ensured that it was anything but.
In fact, it turned out so badly that it would be nine years before cult director Carpenter – who had previously delivered classics such as Halloween, The Thing and, in Millar's estimation, the "underrated" They Live – directed another film.
Relaxed and in jovial form, Salmond explained how he had initially wanted to show a Quatermass episode (the 70s sci-fi serial considered by many a classic), but that Ghosts of Mars was basically a remake of one of its plotlines. Thinking about it for another second, he admitted: "I should have chosen Quatermass."
Apart from the choice of film, the biggest shock of the night was how Salmond managed to out-geek pretty much everyone else there – talking about watching the first ever episode of Doctor Who when it aired (he remembered that it was repeated the next week because of its unexpectedly popular reception), reminiscing about recording an episode of Star Trek on some form of antique video cassette then playing it alongside a recent remastered edition to see if the dialogue had changed, and cracking a joke about the dual identity of Scottish writer Iain Banks/Iain M Banks, the latter being the name the author has used for his sci-fi novels.
When asked if he had followed the various spin-off series of Star Trek, he even explained that he had Seven of Nine from Star Trek: Voyager on top of his Christmas tree last year.
Millar gave Salmond a geek quiz mainly about Carpenter which the First Minister absolutely blitzed. Answering some questions as soon as they had been asked, he stumbled only slightly when asked for the final question what the original line-up of DC Comic's Justice League was. A triumphant showing, no wonder the event had been named Geek Night Special.
Then it was time for Ghosts of Mars which, 12 years after its initial dismal reception, has the makings of a cult classic, an already terrible movie now dated enough that it had the audience laughing out loud during several moments. Lines by a leering Jason Statham and a gurning Ice Cube as Desolation Williams were especially likely to have them rolling in the aisles.
While nobody could ever take the awfully made film – about goth-tastic ghosts of Martians inhabiting the souls of humans and wreaking revenge on the invaders of their planet – seriously for a second, its clumsy action, abysmal effects, rotten exposition and atrocious dialogue were far more entertaining than many other movies show at the Glasgow Film Festival shall be.
So, firmly leaving the politics at the cinema door, Salmond still came out on top, judging by a hearty round of applause at the closing credits. You had to give him credit, the sneaky wee beggar.
Oh, and if Mastermind has a celebrity edition any time soon starring the world's leaders, Scotland will have it in the bag, don't you worry.
More About Glasgow Film Festival