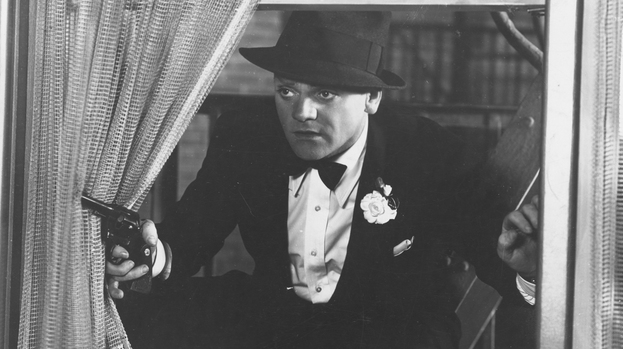 Long before Robert De Niro fell in with the GoodFellas mob and Marlon Brando showed who's boss in The Godfather there was another man who ruled gangster flicks.
In the 1930s and 40s the Hollywood hoodlum of choice was James Cagney.
And it's clear his legacy lives on in a near to full Glasgow Film Theatre for a Saturday morning screening of 1938 classic Angels With Dirty Faces.
Glasgow Film Festival director Allan Hunter introduces the film describing Cagney as a professional againster - a man who always fought against his Warner Brothers bosses and explained Angels with Dirty Faces was the film that reignited Cagney's career. And it's not difficult to see why.
The story opens in a bustling New York City neighbourhood where amongst the vendors, housewives and workmen are two wise cracking teenagers throwing some insults at schoolgirls.
What happens next is the turning point in both their lives. An attempt to steal goods from a railroad car lands Rocky Sullivan (Cagney) in juvenile detention but his sprightly chum Jerry Connolly manages to outrun the guards and escape scott free. Jerry battles with his conscience and on a visit to the young offenders institute begs Rocky for forgiveness but Rocky admits "he's being treated like a prince" and given two square meals a day – reminding his friend "always remember don't be a sucker".
After numerous brushes with the law Rocky is released from his latest stint in jail covering up for his lawyer Jim Frazier (Humphrey Boghart) and sets about reuniting with his old pal Jerry (Pat O'Brien), now working as a priest.
Cagney's comic timing comes to the fore when Jerry explains he found his religious calling on the bus, Rocky chimes in: "I got an idea on the top of the bus and it got me six years."
The charismatic wheeler dealer finds his feet and settles back into his old neighbourhood, meeting the schoolgirl he once terrorised, Laury Martin, who has grown into what Rocky describes as a "snappy looking dish".
But Rocky is keen to be rewarded for those three wasted years in prison and get the $100,000 he was promised and owed by Frazier and his dodgy business associate Keefer. This thirst for cash is ultimately his downfall. Jerry puts his friendship aside and in a bid to save Rocky's young protégées from going down the same destructive path, urges for the public and police to put an end to the gangster wars.
The climactic scenes that follow are essentially a battle of good versus evil.
The moral backbone of the story comes from the six local boys whose paths cross with Rocky on a debauched attempt to pickpocket him. There's comic relief as the rough and ready boys are encouraged to take part a round of basketball and they push, punch and shove their opponents in a bid to win. There's chuckles throughout the cinema as Cagney steps in as referee, slapping and punching every boy that slaps and punches on court.
Angels With Dirty Faces is an insightful look at how a life of crime can escalate from petty theft to mass murder. It puts the spotlight on gangsters and the ease of which a youngster can fall into the path of a career criminal.
Cagney makes for a charismatic and memorable antihero who can easily outsmart his associates. Such is Cagney's skill as a leading man that you push for his thuggish character to be saved, show remorse, get married and live happily ever after.
Sometimes it can be a challenge to keep up with Cagney's quick talking delivery but it's a welcome change to watch a gangster film on the big screen that's not littered with swear words, blood and guts, and from the applause in the cinema it's clear that other people feel the same. And if you're like me you'll find yourself trying to stop using Cagney's "What do you hear, what do you say" greeting for the rest of the day.
Related articles