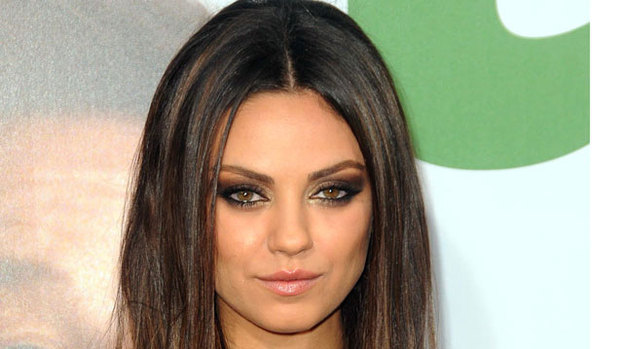 Mila Kunis has revealed she'd love to star as innocent Anastasia Steele in the movie version of saucy book Fifty Shades of Grey.
The stunning Hollywood star, who is currently dating Ashton Kutcher, thinks she'd really enjoy getting stuck into the part of the naïve student, who finds herself embroiled in a steamy S&M relationship with businessman Christian Grey.
"There are times when you just want to do something fun and different because you're going to have a good time doing it," the actress told The Sun when asked about playing the part.
British screenwriter Kelly Marcel, who is working on the movie version of the bondage book, has promised film fans it will be "raunchy" adding: "We're 100% going there."
Mila is no stranger to taking on saucy roles; in Black Swan the actress' character was seeing seducing Natalie Portman's character Nina Sayer.
But while she might not be shy about acting out saucy sex scenes in films, Mila might have some competition on her hands as she is far from the only star who has been linked to the lead role of Anastasia, in the Fifty Shades of Grey movie remake of the hugely popular EL James book.
Others tipped for the role include Harry Potter star Emma Watson, who admitted she was flattered to have been linked to the character.
Speaking last year, Emma said: "I haven't read the book, so I don't know what I would be signing myself up for. So I would have to get sent a script I guess.
"But it always flattering that people are thinking about you for roles. You are in the mix for things so it's great."
Brad Pitt's partner Angelina Jolie was also said to be "dead set" on landing the role, after hearing all about the book from co-stars on the Maleficent set last summer.
"Angelina went out and bought herself a copy, thinking she'd love a part in the hot topic on everyone's lips at the moment. She knows it's bound to be a huge hit," a source claimed.
Related articles