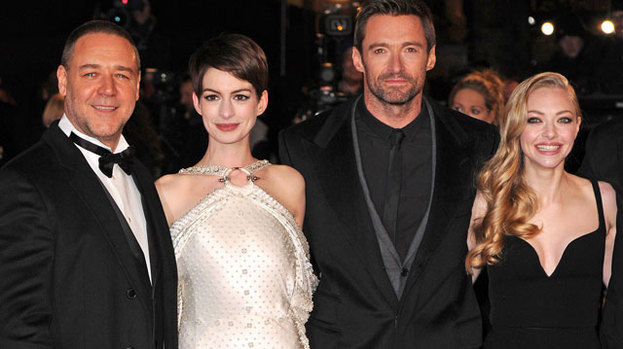 **Stars of upcoming movie blockbuster Les Miserables dazzled as they walked the red carpet at last night's world premiere of the film adaptation.
Anne Hathaway, Amanda Seyfried, Hugh Jackman, Sacha Baron Cohen and Helena Bonham Carter all attended the event at London's Leicester Square, among a posse of other stars from the showbiz world.
Anne, who plays the lead role of factory worker-turned-prostitute Fantine, looked stunning in a floor-length cream Givenchy gown, which she teamed up with a navy Burberry cape to stave off the cold December chill.
Showing off her slimmer figure and newly cropped hair – both of which were required for the role – Anne admitted she would have done "anything" to land the lead character's part in the story.
"It's just the sort of job you feel you should give your pay cheque back at the end of the week, it was such a dream and I can't believe I'm the girl that got to play Fantine," she said at last night's event.
Speaking about her image changes for the role, Anne added: "I didn't have to pull out my teeth, but no one asked, so yes, I would do anything."
Amanda meanwhile opted for a low-cut black dress with ruffle detail, while Isla Fisher, the wife of fellow Les Mis star Sacha, had all eyes on her as she stepped out in a revealing white gown with cut-away panels.
Other stars including actress Goldie Hawn, singer Ellie Goudling, X Files star Gillian Anderson and TV star and comedian Stephen Fry attended last night's glitzy red carpet premiere
The movie – an adaptation of the hugely successful stage musical, based on Victor Hugo's classic novel set in 19th-century France – tells the story of paroled prisoner Jean Valjean who agrees to care for Fantine's daughter, Cosette, changing their lives irrevocably forever.
The musical is now in its 27th year of performance, and has been seen by more than 60 million people in 42 countries in 21 languages around the globe.
The movie Les Miserables will open in UK cinemas on January 11.
Related articles
People who read this story also read