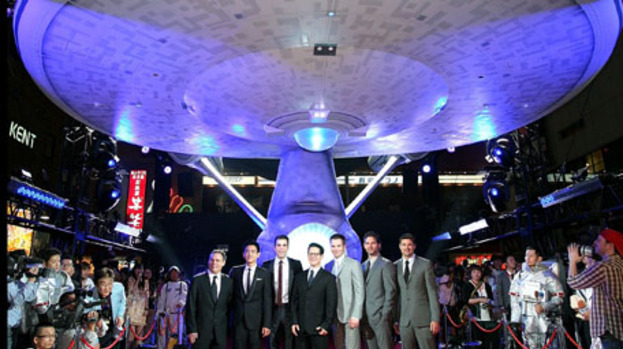 Star Trek fans are to get their first glimpse of the sequel to J.J. Abram's 2009 smash hit when the first nine minutes of the film are screened in IMAX.
The film is not due for official release until May 2013 but 500 IMAX 3D cinemas will screen the clip ahead of showings of The Hobbit: An Unexpected Journey, according to Collider.
Details about the film are notoriously sketchy, with director Abrams keen to ramp up the suspense, but Chris Pine, Zachary Quinto and Karl Urban will return as Kirk, Spock and McCoy.
Anton Yelchin, Zoe Saldana, John Cho and Simon Pegg also reprise their roles as the Enterprise's supporting cast Chekov, Uhura, Sulu and Scotty.
Brit actor Benedict Cumberbatch will star as the film's villain, with rumours that he will play Khan from the original series and second original film.
"Our longtime partners J.J. Abrams, Bryan Burk and the Bad Robot team have really hit it out of the park – the footage is absolutely incredible," said Greg Foster, Chairman and President IMAX Filmed Entertainment.
The preview is similar to the promotional stunt used by Christopher Nolan for The Dark Knight Rises.
Related articles
People who read this story also read