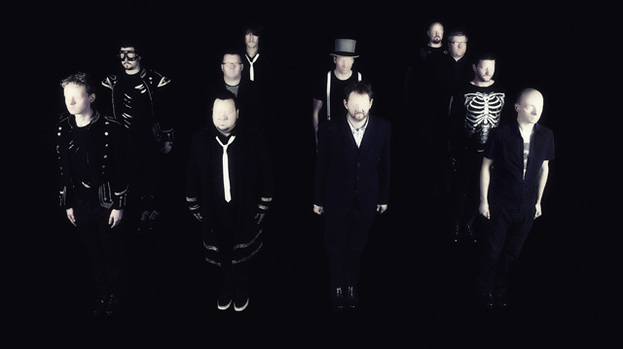 They're one of Scotland's finest live acts, and the boisterous 13-piece folk group are touring the country this week after this year's release of debut album Origins.
Treacherous Orchestra are a festival favourite at Glasgow's renowned Celtic Connections festival – and the release of their first album has helped them acquire a new fanbase.
If you haven't hear them before, then their performances are something to behold – the group a fearsome live proposition.
They perform at the Ironworks in Inverness tonight (Friday October 5), Feis na Mara in Mallaig tomorrow and Glasgow's Stereo on Sunday, before playing London and Shoreham next week.
Superfly Radio Edit by Treacherous Orchestra
We talked to the band to find out what they have in store for us:
You've played a couple of shows already on your Sept/Oct UK tour, how's it been to get back on the road?
It's been great craic 'putting the band back together'. The roads have been fairly treacherous though. Gigs have been well received so far and we're looking forward to the shows ahead.
You released debut album Origins in February, how has it been having the album behind you for your shows?
Our music has developed so much over the course of recording the album that it's made a big impact on the live shows. The band is sounding a lot tighter as a result.
Are there any tracks you especially like having the opportunity to perform live?
Sausages is always a great one to do live as we always get some audience participation, and it's a fun track anyway.
And any shows or experiences you've especially enjoyed over the past year?
Shrewsbury Festival was rocking and we couldn't have had a better audience.
What can those unfamiliar with the Treacherous Orchestra expect from the shows - and will there be any surprises in store for those who are already fans?
Well there's always a surprise for sure, even for us in the band! Expect madness and mayhem.
Sea of Okhotsk Radio Edit by Treacherous Orchestra
How easy was the tour to organise with such a large array of members?
Organise is a strong word! Obviously with this amount of folk it's never going to be a walk in the park, but we rise to every challenge; and we haven't missed a gig yet...
Have you been in the recording studio since Origins?
No, but we're constantly working on new material and plan to get back in the studio soon.
What do the band have planned after the current tour?
Duncan, Ross and Adam are currently working on debut solo albums, whilst Adam's also involved in a new project with John & Spad, 'Halcyon'. Martin has just launched his own signature series percussion and Fraser is redecorating his bathroom.
And finally, will we be seeing another Treacherous appearance at Celtic Connections 2013?
Celtic Connections is always a great one for us. We've no plans yet, but we'll all be there in one form or another.
For more information about the shows and Treacherous Orchestra visit http://www.treacherousorchestra.com/tour/