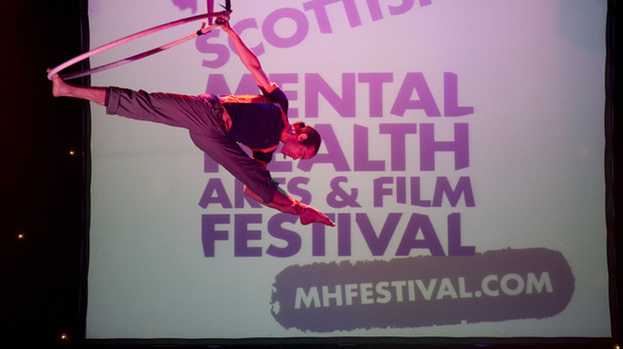 The Scottish Mental Health Arts and Film Festival has revealed its nationwide programme of events, screenings, workshops and exhibitions.
Taking place from October 1 to 24 around the country, its theme this year is 'walk in my shoes'.
Now in its sixth year, the Scottish Mental Health Arts and Film Festival has expanded from a weekend of film to encompass music, film, visual art, theatre, dance, video-gaming, comedy and literature, with tickets are on sale now for over 250 arts events.
Taking inspiration from this year's theme, musicians, writers and artists will explore aspects of empathy and understanding in collaboration with arts organisations and venues working with activists, community groups and people who have experienced mental health problems.
Duglas T Stewart (BMX Bandits), Rod Jones (Idlewild) and Malcolm Middleton (ex-Arab Strap) are some of the musicians involved in in creating this year's programme, along with writers Alan Bisset, Christopher Brookmyre and Rodge Glass, Scots Makar Liz Lochhead, comedians Mark Steel and Susan Morrison, poet and comedian John Hegley and award-winning theatre director Nicola McCartney.
Festival director Lee Knifton said: "The arts allow you to explore meaning in a fun way, to engage your emotions and connect with one another emotionally as well as intellectually."
The festival has also developed in scope. "SMHAFF has evolved to be a broader social justice festival where we're not just looking at improving mental health for everyone, we're looking at reducing the inequalities in well-being that we experience as a community," explained Lee.
"The Festival is about social justice, it's about tackling stigma, it's about exploring mental health identities and it's about connecting people and organisations that otherwise wouldn't meet. And it's about creating space – not just for great art – but for exploring what art can tell us about mental health and about identity more generally."
Isabella Goldie, head of Mental Health Foundation, Scotland, explained: "The Scottish Mental Health Arts and Film Festival has gradually become one of the most exciting, innovative and important arts events in Scotland's cultural calendar. Not only because each year the quality of the art on offer just keeps getting better and better but many will know that this festival is much, much more than a series of fantastic and of course accessible events - it's a celebration of the human spirit."
In terms of film, the Glasgow Film Theatre and Edinburgh's Filmhouse, Edinburgh will screen Anti-Clock and Dali In New York with an appearance by filmmaker Jack Bond, the Scottish premiere of I, Anna staring Charlotte Rampling, while filmmaker Jim Burns and subject Duglas T Stewart discuss Serious Drugs - a film about inspiration, creativity and Scotland's seminal indie group BMX Bandits – at the Filmhouse. Theatre-wise, Box of Frogs is billed as an "exhilarating, high-octane performance showcasing a deluge of circus skills including trick-cycling, tumbling and acrobalance, exploring circus as a metaphor for emotional instability", while Piece of Mind" looks to bring to life the experience of young people diagnosed with bipolar. Nicola McCartney's production of Wendy Lill's play *The Occupation of Heather Rose concerns an idealistic nurse in a Canadian outpost who discovers that mental health is not simply a physical or emotional issue.
Music Like A Vitamin returns with a unique collaboration by Fatherson, The Birthday Suit (featuring Rod Jones of Idlewild), Withered Hand and Sparrow and The Workshop.
Scottish Opera and Shelter Support Services present The Magic Boot, a one-off performance of a new community opera written and performed by families affected by homelessness. (Maryhill Burgh Halls)
In terms of literature, Walking, Talking, Writing from Lapidus Scotland is a weekend of writing events – including a flâneuring workshop – featuring Scots Makar Liz Lochhead and James King, performance poet. Alan Bissett, author of Boyracers and Scottish Writer of The Year, is among the Falkirk Rocks line-up, along with Grangemouth's own Gordon Legge. Meanwhile Elgin hosts An Audience with Christopher Brookmyre.
In the sphere of comedy Mark Steel "brings the feel-good factor to Moray", while Keir McAlister and John Scott are among a group of Scottish stand-ups, led by Scotland's favourite MC Susan Morrison who will be playing various gigs around the Highlands and Islands, finishing up in Rutherglen.
As well as that "Walkthrough" marks a first move into a new sphere for the festival, with speakers from some of Scotland's most successful video games companies taking you on a journey through their creations. In terms of visual art Elemental is a "visually stunning" exhibition of work from emerging Falkirk artist Archie Tipple, and A Walk In My Boots: Veterans First Point Art Open Day displays visual and written artwork exploring the experiences of veterans and their families.
For more information on the Scottish Mental Health Arts and Film Festival visit mhfestival.com.
People who read this story also read