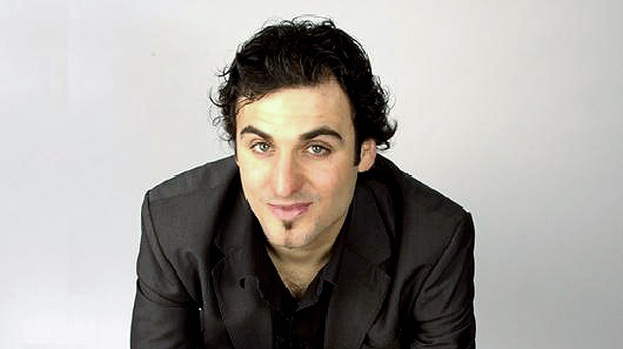 Hello, what's your name, and what on earth are you going to be doing in Edinburgh this August?
Hello my name's Patrick Monahan and this year at the Edinburgh festival I will be aiming to entertain the audience with speech and with spooning! Everyone at Edinburgh needs an angle, and mine is very friendly and very hands on.
Tell us more about your show...
My show is about how to get the best night's sleep, how to show someone you love them, how to hide in a cupboard properly, and how to spoon and still get a great night's sleep... And also what I would really do with an Olympic torch, and that I'm addicted to cherry bakewell cakes.
How are you preparing for your marathon Fringe run?
I've done the Edinburgh festival for the last nine years and I've learnt that no matter how much holy water you've drank, and Berocca you've snorted you ain't going to be prepared for a month long at the Fringe festival! Say goodbye to your voice as soon as you step of the train at Edinbrugh Waverley station at the start of August.
Food and/or drink – what do you take to keep you going through the madness?
Eating during the festival is for wimps and old people! Real performers don't eat for a month, instead we drink ground up out of date fruit mixed with syrup and granola pretending we're Olympic athletes.
London's taken some of the hype with the Olympics this year – what do you think is the best way for Edinburgh to grab it back?
I think by stealing Usain Bolt and hiding him in the props of the set of a student theatre production, and then when he tries to escape, the clever students will trick him into finishing the rest of the run.
If you've been before, what's your favourite part of the Edinburgh festivals?
What's not to love about Edinburgh? Except for the rain!
My favourite part of Edinburgh is the hand dryers because that's the only place where people can dry off before venturing up and down roads and underground passages and volts to venues in tropical rainstorms.
What would be your biggest piece of advice to any performers coming to Edinburgh for the first time?
Bring waterproof clothes and bring a spare kidney, 'cos you may need one after two weeks of drinking and performing seven shows a day!
Whoever else are you most excited to see in Edinburgh this year?
The Queen. I heard she might be doing a one off Q & A show to celebrate her Diamond Jubilee!
What's been your most memorable festival experience?
Crowd surfing at Late and Live at the last night of the festival against john bishop!
Also sitting up on Arthur's Seat on the last night of the festival at 5am watching the sunrise with late comedian Jason Wood (who passed away a couple of years ago) and Welsh comic Sion James. Watching Edinburgh slowly wake up to the sun, as the last posters and billboards clung on to the walls for the last day of their lives.
Any favourite Scottish word/phrase?
"Alright hen" – I'm not sure if they're talking to a lass, or ordering a weird new meal at KFC.
What would be your best tip for any punters coming to their first Fringe?
Go to as many shows as you can, and don't just go to a show cos it's got the biggest poster. Take a chance but always check with word of mouth vibes too.
And at the end of the day, just enjoy yourself don't take it too seriously – after all it's a festival, enjoy it and don't have a school or prison timetable with you.
And finally, when/where/how can we see your show?
You can see my show every night at 8pm at the Gilded Balloon, in the Wine Bar, every night from the 1 to the 26 August, except the 14th. (Ticket information here.)
Or you can watch me at about 11pm every night outside a random takeaway – but don't steal my chips unless you're prepared to swap them for a hug!