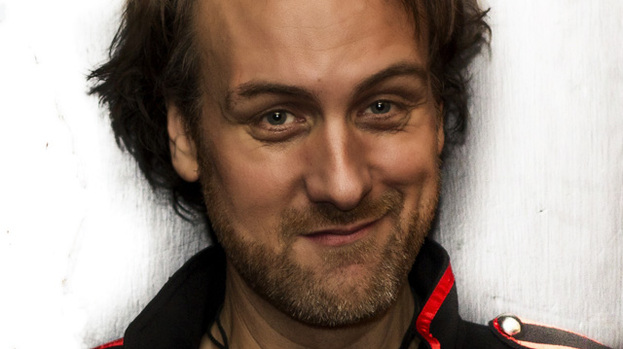 Hello, what's your name, and what on earth are you going to be doing in Edinburgh this August?
I'm Mitch Benn and my show this year is called Reduced Circumstances. It's on Stand 3 at 3pm.
Tell us more about your show(s)
The title refers to a number of things; it's a solo show (in previous years I've been performing with my band), the straitened times in which we live and also to myself – I lost a LOT of weight last year and the show addresses this, how (and why) I got as heavy as I did (I was 25 stone at the beginning of last year) and how (and why) I took ten stone off. And what happens now. Oh, and it's funny. With songs. Which are funny.
If you're doing a marathon Fringe run, how are you preparing for your marathon Fringe run?
I'm doing as many previews as I can because it's occurred to me that most of my spoken-word material (I'm "known" as a comic songwriter but there's a lot of stand-up in this show as well as songs) actually gets "written" on stage… I come up with ideas at home but they really take shape from being performed.
Food and/or drink – what do you take to keep you going through the madness?
Food-wise I'll mainly be on the low-carb high-protein diet I've been on for the past year (and will probably be on to one degree or another for the rest of my life, as the show explains) but I've no doubt I'll succumb to the odd haggis.
I lived in Edinburgh for eight years (I did my degree at Edinburgh University) and I miss chip shop haggis suppers. Drink-wise I'll probably be on the wagon. Not very rock n' roll but the Fringe is mainly a working environment as far as I'm concerned.
London's taken some of the hype with the Olympics this year – what do you think is the best way for Edinburgh to grab it back?
I'll actually have to nip back to London on my one day off during the Fringe to go and do The Now Show (the Radio 4 show I do the songs for) - it's doing a special run for the Olympics and I'm going to miss most of them because I'll be up in Edinburgh.
As regards the hype; hey listen, it'll be another century or so before London gets the Olympics again, let 'em have the attention. There's too much media attention at the Fringe anyway; it gets people doing the wrong shows for the wrong reasons.
One of the best things about being on at The Stand is that it kind of stands apart from all the frenzied PR madness. It's a much cooler more laid-back environment. Every year the Fringe is getting more and more like The X Factor for comedians; The Stand is more your Later With Jools Holland sort of vibe.
If you've been before, what's your favourite part of the Edinburgh festivals?
I've been MANY MANY times before and my favourite thing about being in Edinburgh is just being back in Edinburgh. It still feels a lot like home even after all this time.
What would be your biggest piece of advice to any performers coming to Edinburgh for the first time?
It's a myth that all comedians coming to Edinburgh must inevitably lose lots of money and it's a myth that we comedians have allowed to take hold, to our own detriment.
I've never lost a penny at the Fringe and I've had good years and bad years at every size of venue. If you're selling out your show and you still end up owing thousands of pounds to someone, it's because that someone is ripping you off. Don't stand for it.
Whoever else are you most excited to see in Edinburgh this year?
To be honest I haven't even had time to look at a programme yet.
What's been your most memorable festival experience?
Back in the 90s, the building which currently houses the Gilded Balloon (Teviot House - as an ex-Edinburgh Uni student I still think of all the Uni buildings by their non-Fringe names… it's not "The Pleasance Dome", it's Potterrow!) used to house The Fringe Club, a performers' hangout.
The room currently known as The Wine Bar used to stage a REALLY fractious late night cabaret called The Bear Pit. Nearly everyone would get heckled off in five minutes, but if you could turn it - if you could win the room - the reaction you got was like being U2 at Wembley. I think the first time I "won" the Bear Pit back in 1994 is still my favourite Fringe moment. Shame it's not there anymore.
Any favourite Scottish word/phrase?
G'oan yersel'!
What would be your best tip for any punters coming to their first Fringe?
Come and see Mitch Benn in Reduced Circumstances at Stand 3, 3pm.
And finally, when/where/how can we see your show?
Stand 3, 3pm. (Ticket information.)