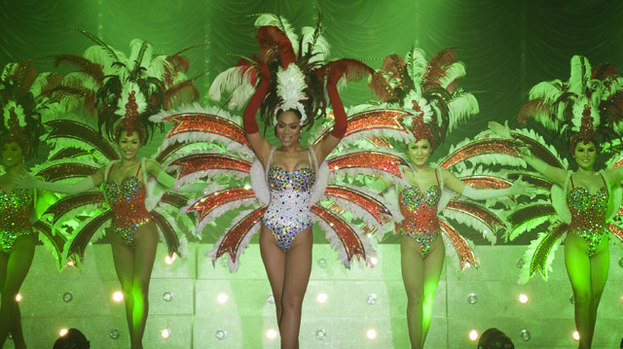 *By Gill Harvey and Laura Boyd

It's the largest arts festival in the world, drawing excited audiences from all over the globe, so it was only right that STV's showbiz gals got their glad rags on and headed along to the annual spectacular of the Edinburgh Fringe.

We had one aim for the day – have a lot of fun – and armed with just our festival brochure and not much else (other than mini bottles of Rose for the train, so classy), we decided to throw caution to the wind and see where the day took us.

Anyone who has ever been to the month-long festival will know that the Fringe is a glorious myriad of top-notch theatre, dance, comedy and music, with shows on offer across 250 venues in the city.

It is also home to some of the weirdest and wackiest shows that you're ever likely to see. And we certainly sampled one or two of them…

During festival season, every street corner of the stunning city is jam-packed full of eager performers, desperate to convince passers-by that their show is worth a look.

We fell prey to the pleadings of one rather enthusiastic comedian, who convinced us to stop by his debut performance. He was carrying a child's karaoke machine and looked at us with puppy-dog eyes, pleading with us to go see his 'first show.' The "first show" line is often used as a sympathy tactic, but in this instance we hope, for his sake, this was true…

Note to those of you still to venture through to the Fringe: Eagerness doesn't always equate to talent, and in this case, this young man at The Hive wasn't quite up to scratch. Or in other words, we didn't crack a smile throughout his excruciatingly bad fifteen minutes or so of fame. Preparing some jokes or puns is a good place to start, of course.

We then sat for an hour listening to stunning red headed American comedienne Laura Levites tell the story of her ill-failed relationship with a British man, in a tone not too far removed from Ruby Wax. She certainly packed a punch but we left craving some light-hearted relief.

Sadly we got held up in the slightly overwhelming crowds as we navigated our way through the busy city and missed one comedy show which had been tipped as a must-see, The World According to Damien Crowe – albeit by a mere five minutes.

But, undeterred, we decided to make the most of the spare hour and enjoyed some delicious cocktails sitting in the glorious sunshine at the famous Spiegeltent terrace, before a quick dinner at the celebrities' favourite eatery of the moment. The Ivy? No, Nandos! If it's good enough for JLS and the One Direction lads, it's good enough for us.

In between we enjoyed some fantastic street performances, taking in everything from a snippet of Hi-De-Homo, which came from the super talented London Gay Men's Chorus Ensemble, to more obscure, interpretive theatrical offerings. A groom-to-be who had been dared to pretend he was putting on a show as part of his stag-do drew bemused crowds from around the globe and was one of the most hilarious things we witnessed all day.

There really is only one way to travel around Edinburgh at this time of the year – jump in a rickshaw and you'll be guaranteed to not only end up in your chosen destination, but also enjoy a bit of comedy on the way (thanks to the cobbled streets of Edinburgh, which look quaint and appealing, but are slightly sore on the old derriere).

Making our way through the hills and dips of the city, it was no time before we ended up at the Meadows Theatre Big Top for the most anticipated part of our day – a night with the Lady Boys of Bangkok.

The show has been a huge hit at the Edinburgh Fringe for over a decade and we agreed that a trip through wouldn't be complete without a stop at this year's show, Carnival Queens.

Surreal is the only way to describe this music spectacular, performed by 16 of Bangkok's finest.

The show consisted of everything from Coronation Street sketches to scenes from Burlesque, with a bit of Katy Perry and YMCA thrown in for good measure. We were particularly captivated by the incredible skills of the male gymnasts, whose gravity defying routine wouldn't have looked out of place in Cirque Du Soleil.

The crowd is a mixture of rowdy hen parties and work nights out, not to mention husbands and boyfriends who looked slightly terrified at the start, but soon got into the spirit of the all-singing (or should that be all-miming), all-dancing show. It was like the Olympics Closing Ceremony on acid – in a good way.

Our night with the Lady Boys is one we'll never forget, which is much more than we can say for some of the other Fringe 'delights' we witnessed.

All in all, we had a ball at the Fringe and can't wait to return next year. With something to suit all tastes, make sure you don't miss out on the magic, fun and frolics before it all comes to a climax on August 27. Enjoy!
SALT AND SAUCE