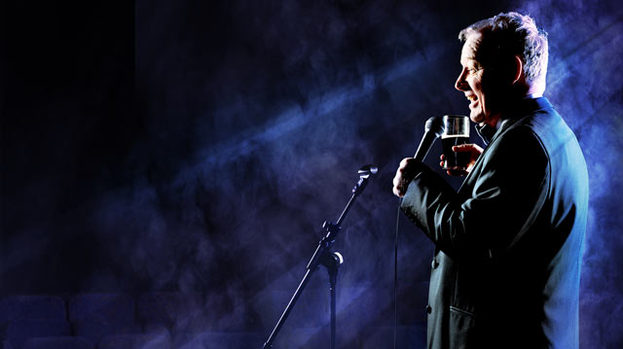 There's always a risk, if you are a northern comic, that if you do a show about a fading northern comic who is a bit down on his luck, running out of comic road, that people will think that it is about you.
Les Dennis is not everyone's cup of Typhoo as an entertainer but you have to take your hat off to him for this particular effort. JIgsy is just that fading northern comic.
We first catch sight of him through the curtain that leads from the green room which is the main set to the stage just beyond. He is fronting up the weekly bingo in a nothing club in Liverpool. He says his beery goodbyes and tumbles back into the main space, a bit pissed, a bit over weight, a bit tired and altogether a bit sad.
But Dennis is a much better actor than he generally lets on (I've seen him do stragiht theatre before) and although Tony Staveacre's script is set in 1997, he manages to keep this tale of looking back on a world that almost on longer exists just the right side of weepy nostalgia. In fact, by the end Jigsy seems like a decent enough bloke really, just trying to keep going as the world leaves him behind.
He tells some scurrilous tales of other comics (Ken Dodd does not come off well) , introduces us to some old jokes as if they were long lost friends and summons the ghost of clubs of the past to create a convicing picture of life on the local road; not glamorous, not rich but better than working down in the heavy industriies which were often the only alternatives.
And in doing so, he coincidentally gives a master class in comic timing that any young tyro stand-up on the Fringe would do well to emulate. Come and see how it's done, kids, how to hold a pause, how to direct an audience's attention, how to handle props. You'll learn a lot.
Jigsy; Assembly Rooms until August 26 0844 693 3008