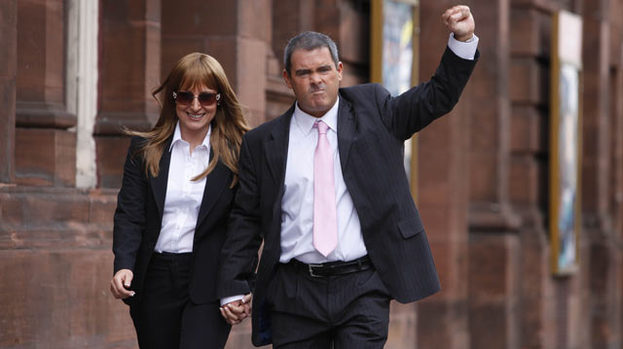 The story of Tommy Sheridan may look like something exclusively Glaswegian; but even the ancient Greeks would recognise its basic ingredients; a hero with a fatal flaw.
In case you have been living on Mars for the last decade or so, Sheridan was the hard left firebrand who, with his dashing air and gift for the redolent soundbite (rare treats in Scottish politics), became the darling of the Scottish media and public during the Poll Tax protests of the 1980s.
He then married glamorous air hostess Gail and took his Scottish Socialist Party to a peak of six seats in the Scottish Parliament in the 2003 election.
But tabloid accusations of visits to swingers' clubs (without Gail) and other sexual shenanigans tore apart his party and lost him his parliamentary career. He sued the paper that made them (it was the late News of the World) and sensationally won in what was undoubtedly the most entertaining trial on this century so far. But he was finally sent to prison in 2010 for perjuring himself in that same defamation trial.
You could not, as they say, make it up; all the creators of this show had to do was decide whether it was tragedy or comedy and they have opted firmly for the latter.  Des McLean, better known as a stand-up comedian, captures Sheridan's pugnacious, perma-tanned self-belief perfectly and writer Ian Pattison, the creator of Rab C Nesbitt, feeds him all the neo-Biblical fire and brimstone he needs.  
Colin McCredie, probably still best known as the young detective in Taggart, though also an accomplished stage actor, is the perfect narrator as Alan McCombes, Sheridan's closest ally who saw it all close up and on whose book the show is loosely based.  It is not subtle and nor is it the most lavish of shows (Red Aye's production, in its Edinburgh fringe version at least, runs to a table and six chairs though that may be expanded for the autumn tour) but it is great fun and its knockabout style is an oddly appropriate mirror to Sheridan's colourful life.
I, Tommy, Gilded Balloon until Aug 26, 0131 622 6552 then touring Scotland until November 10