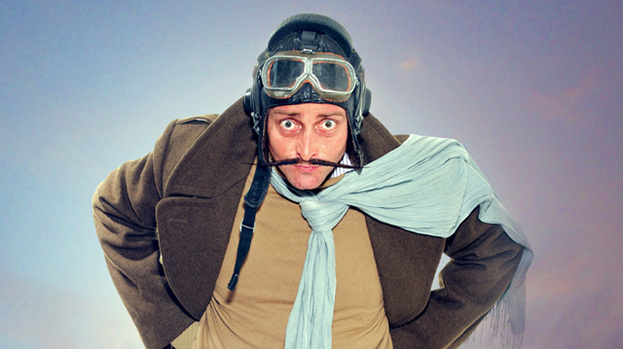 Hello, what's your name, and what on earth are you going to be doing in Edinburgh this August?
Tim FitzHigham - on earth, I'm going to be doing my solo show called Stop the Pigeon - I can't wait! And also my perennial afternoon show about Flanders and Swann (mud mud glorious mud) - and that's always so much fun
Tell us more about your shows.
Stop the Pigeon is about the toughest bet, gamble in history. It's a wager I've taken on that was originally undertaken by a legendary gambler and Scottish aristocrat in the 18th Century, a man called William Douglas. He says he won but I can't wait to see if he did. I'm betting against my friend Alex Horne so one of us will lose handsomely. (Or ugly-ly, who can say?)
Flanders and Swann is about the work of the legendary 1950s and 60s double-act of the same name - they wrote the funniest songs in history, and it's a joy to be able to do them at the fringe.
If you're doing a marathon Fringe run, how are you preparing for your marathon Fringe run?
Is there a run? I'd love to do that...or do you mean run in the theatre way... If the latter, I'm only doing two shows per day most days which is good for me. In previous years I've done many more than this so it's hopefully going to be all right. I believe (like James Bond) that a good cold shower is the cure for most things (except cold obviously). One day last year I managed (by mistake, extra shows, etc) to have spent nine hours on stage! Somehow I'd turned stand-up into a nine to five...
Food and/or drink – what do you take to keep you going through the madness?
Cold showers (see above), the odd shot of a hip flask and listening to the bagpipes at night - I find them very therapeutic. In terms of food, I like fish. When I'm doing the festival I always stay in Leith and the sea food there is some of the best anywhere.
London's taken some of the hype with the Olympics this year – what do you think is the best way for Edinburgh to grab it back?
Trip up the torch bearer on the way through Scotland. I think they have to do the Olympics wherever the flame ends up.
My first thought is why does Edinburgh need to 'grab it back'? Edinburgh's got the festival, the Fringe, the Tattoo (need I go on?). It would be like building a tube network for Edinburgh just because London has one (don't - it often stops) or London trying to market Haggis - the best way for Edinburgh to grab anything is to do what it loves best - the festival, the Fringe, the tattoo, the castle, the Queens gallery, the haggis, the kilts. OK, I said I wouldn't go on...but if it really bothers you then try tripping up the torch bearer...or stealing the flame...
What's your favourite part of the Edinburgh festivals?
People laughing - there's a lot of laughing in the month. I'd say it's also the fact you can try something different every single day with more variety than any other place on the planet: today I'd like to try playing the bagpipes, tomorrow I'd like to look at paintings by Earl Haig, the next day I'd like to join a South American wooden flute band with Earl Haig - the list is endless. Enjoy it all - and of course most of all enjoy my show...
What would be your biggest piece of advice to any performers coming to Edinburgh for the first time?
Don't get trench foot - sometimes the weather can turn and I remember the year one of the people giving out flyers got trench foot. It's a tip for anywhere in Britain: it's summer so pack your wellies!
Whoever else are you most excited to see in Edinburgh this year?
Andrew Maxwell, Glenn Wool, Craig Campbell, Lady Carol, Simon Munnery. I met Celia Pacquola in Melbourne and thought she was super, and I also can't wait to see how Scotland responds to Felicity Ward (she was also in Melbourne)...that's a lot of excitement I realise...
What's been your most memorable festival experience?
So many. Many of them now seem like dreams...perhaps dreams is not the right word... The dawn Fullmooners show on top of Arthur's Seat was great, as was the one up Carlton Hill and all the ones in the caves - auctioning off the very last ticket in the street.
Going down the Water of Leith on inflatable mattresses with Maxwell; trying to fly unassisted at late and live; the year when the Royal Marines did the Tattoo and I ended up on HMS Caledonia; the year I got accidentally arrested (then released) for defending a ladies honour; the year of the great water fight at the Perrier Party; the year I ended up in hospital as the most dehydrated man ever admitted to an Edinburgh hospital, the year I caught a deadly flesh eating microbe from the venue; the year I did the Taskmaster with Horne; the year I went blind in one eye; the year I did my show in a leaky ship; the year of the naked princess; the year I got stuck in one of my own props; the year Peebs, Max and I found each other over a horn; the year of kumquats Frisbee; the year a flyering team lady got trench-foot; the year of the Farsi poet; and every single Champagne Monday there has ever been...some of them have faded in my mind but it's been an incredible part of my life...
Any favourite Scottish word/phrase?
Haver - it's got to be - I've not heard it anywhere else in the world - to talk foolishly/drunkenly I think it means, but I'm sure someone will find me late one night and haver at me for hours about its true meaning.
And what would be your best tip for any punters coming to their first Fringe?
If you only see one show, make sure it's Stop the Pigeon in the Pleasance - or a less selfish tip? Er...if you've never been before and you want to fit in: people may ask you 'who is Tim FitzHigham'? Look knowing and say "He's a fringe institution (or should be in an institution, definitely one of them) so I'm going to see his show," and they will look at you as though you've been around for years and you'll feel the warm glow of belonging...try it...go on...a less selfish tip than that? Er...see a show every day you're there - if you can see more than one, see two a day. It's the only place in the world that you can see this many shows in such a small amount of time and space.
Stop the Pigeon is on at the Pleasance Courtyard from August 1 to 27 at 7.30pm. For more information visit pleasance.co.uk.
Flanders and Swan is on at the Pleasance Courtyard from August 3 to 27 at 2.30pm. For more information visit pleasance.co.uk.