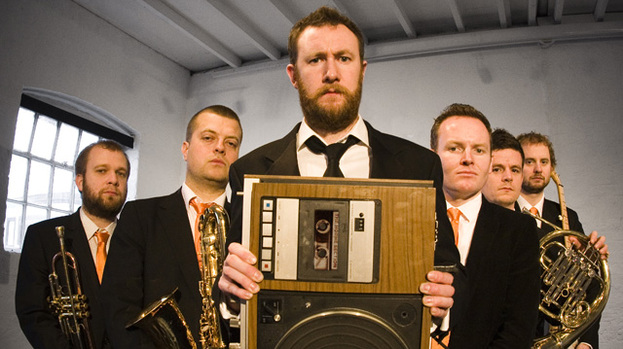 Hello, what's your name, and what on earth are you going to be doing in Edinburgh this August?
Hello, my name is Alex Horne and I'm going to be hurling myself at the Horne Section in Edinburgh this year.
Tell us more about your show...
For the first time in a decade I'm not doing a solo show at the Fringe and this, for me at least, is incredibly exciting. We're doing the Horne Section at the Pleasance Grand, so it's a big late night shebang and I can devote myself entirely to making it as fun as possible. I'm even leaving my wife and kids behind so I can concentrate completely on the work*.
*'Work' includes a fair amount of late night socialising that is crucial to both the creative process and the networking process but which doesn't seem quite such a good idea when you're up at 6am with two toddlers.
Food and/or drink – what do you take to keep you going through the madness?
None. I get my camel on and try not to let anything pass my lips until I'm south of the border again (with the exception of jacket potatoes, Berocca, Piemaster pies, Tennent's and our drummer's special pasta).
What would be your biggest piece of advice to any performers coming to Edinburgh for the first time?
I like the smell and the noise of the festival - it's my nose and ears that get the most out of it for me, sense-wise. I'd advise people to make time to wander about and see what they stumble upon. Whether it's a bar, a show, a cafe or a person, take a risk and a plunge and see what you find.
Whoever else are you most excited to see in Edinburgh this year?
For the past few years I've managed to miss Daniel Kitson's shows in Edinburgh so I've made sure that won't happen this year. There's also a dance show that involves football that sounds like fun.
What's been your most memorable festival experience?
My wife and I got together in the week or two preceding my first ever Edinburgh (in 1999) and the month that followed was a riot of drink, shows and flyering. My own thing was terrible but it was by far the best few weeks of my life.
Any favourite Scottish word/phrase?
Tatties. Very satisfying.
And what would be your best tip for any punters coming to their first Fringe?
To be honest, and I admit I'm a little biased, I'd have to say the Horne Section - Live at the Grand! - mainly because I've just seen a list of the people performing with us this year. It's incredible. I can't wait.
The Horne Section will be bringing Live at the Grand! to the Pleasance Courtyard – Grand from 9th to 22nd August, 11.15pm. For tickets see www.www.edinburghsbestcomedy.com.
More About Edinburgh Festivals