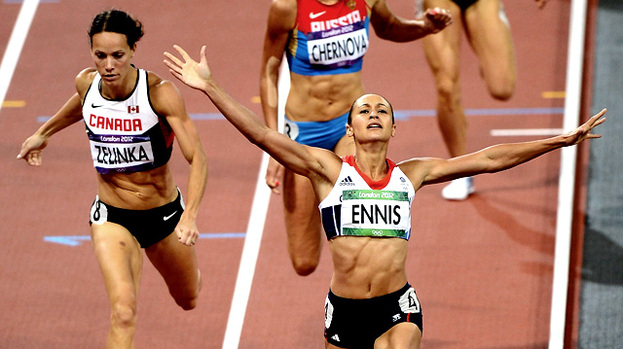 Devil's Advocate is a regular column assuming an alternate viewpoint on a topical subject of the week.
Ah, so much for those hipsters who couldn't wait to moan about the Olympics – instead it's become de rigueur to express delight at Team GB's fantastic medal-winning exploits, even while professing a distinct lack of interest before the Games kicked into gear.
Such a fuss has been made that other sporting events have been put firmly in the shade. Tiger Woods could have showed up for the US PGA Championships – which started yesterday – in a Marilyn Monroe outfit, swinging at his ball with gold-plated straws of spaghetti and it would barely have merited a mention in most of the sports sections.
Likewise the football season kicked off in Scotland sometime over the past couple of weeks. This fact only became general knowledge because its plethora of miserable long-suffering fans stopped complaining about events off the field – which were hopelessly biased in favour of whatever sides they didn't support – in order to resume their normal service of moaning incessantly about what's been happening during the hugely tedious 90 minutes or so on the pitch. (Which amazingly now feels like a blessed relief by comparison.)
How are the poor stars of these sports managing to cope out of the limelight? Your heart breaks when you realise that the only compensation for the winner of the golf tournament will be $1,445,000 prize money (out of a total fund of some $8m which will also aid the also-rans), while third-division side Rangers were apparently able to offer Francisco Sandaza £1m to slum it in the lower leagues for a few years.
You might think this compensation is the least they deserve, but for some reason these financial rewards seem to rankle with many of those viewers in the UK who have been glued to their screens for the Olympics coverage.
After all, why do many of our potential medal-winners at London 2012 have to subsist on meagre subsidies from sports bodies (if they receive any at all), while footballers are allowed to act like complete brats doing whatever the hell they want to whoever the hell they want (when they're not hooking up with their siblings' or their teammates' or their grandparents' partners for some grim-faced orgy basking in grotesque opulence)?
Well, here's why.
First, it's because you – or your friends or your workmates – have paid for it. It's the public's fault, and your responsibility for doing nothing up until now, at which point you've suddenly decided to carp on about the injustice via Facebook or Twitter, as though that might make a jot of difference.
While the Olympians get up day after day to practise their sport, adhering to rigorous diets and routines for years on end – as do footballers and golfers and those other mega-rich sportspeople – you can't even be bothered to go along to your local athletics event or swimming competition, or change the channel from the usual knuckle-brained reality shows or bog-standard football league fixtures to watch some of those other marvellous 'fringe' sports. (All of which existed long before they popped up on your screens as part of the Olympics coverage.)
There was an image that went viral over Facebook asking for the media to concentrate on covering the likes of Jessica Ennis and other heroes of London 2012 rather than ridiculous talentless celebrities. The problem is that it will be the very same people posting that image – feeling very smug for a minute or two – who then immediately afterwards visit the Daily Mail showbiz section because Rod Stewart is flaunting his 67-year-old body on the beach, or because Naomi Campbell has displayed her 'shocking' hair, completely ignoring the fact that it's their continued custom which will ensure such nonsense continues to dominate the 'news' agenda. (I bet a fair few of you are tempted to go over and check right now...)
Second, however much they may otherwise be complete morons, footballers chose a prized profession in a highly competitive field. (As did golfers, and basketball and baseball players in the US, and so on...) The chances of success are slim, and it's only those most valued who earn top dollar, while thousands upon thousands of others slog away to little fame or fortune.
It's a much higher risk than specialising in a sport with a much more limited field, and which therefore offers higher chances of success – even if that means a smaller payday by comparison. The vast majority of those playing in Scotland's top tier will rarely taste cup glory thanks to the dominance of the Old Firm. (Even with the current brief period of relative respite.)
Third and finally, why on earth should money be considered an important measure of success anyway? Is our country really that superficial? (Don't bother answering that.) Seeing the likes of Sir Chris Hoy breaking down on the podium after becoming Britain's greatest ever Olympian, it's difficult to imagine that the Scottish cycle champ getting his hands on a few million quid would have made the moment much sweeter.
Quite the opposite, in fact. It would likely only have cheapened the experience. Instead Hoy and the other Olympic heroes have something far greater, glory for its own sake. We only need to look at the behaviour of those most highly paid sportspeople – and those in control of them – to see that those undervalued champions on London 2012 are probably far better off without a payday being involved. They should be glad that nobody gives enough of a toss to mean that they are commensurately rewarded for their efforts.
MORE DEVIL'S ADVOCATE
More About Devil's Advocate
People who read this story also read