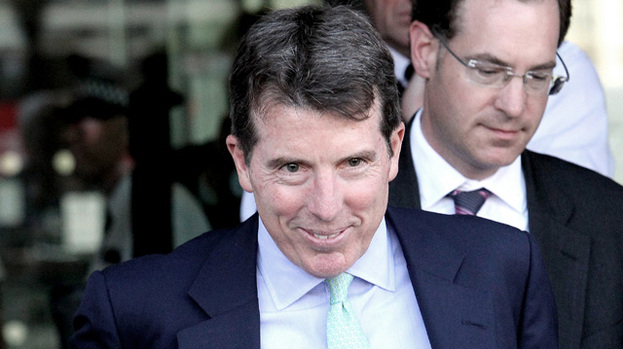 Poor Bob Diamond – in the past week his image has become synonymous with those who are considered 'fat cats', creaming their wealth from hard-working British taxpayers.
On Tuesday the he resigned from his role as Barclays chief executive after a chorus of outrage greeted news that the bank had been ordered to pay £290m to settle claims it employed underhand tactics in an attempt to rig financial markets.
While what occurred may have been morally reprehensible, it shouldn't be too difficult to fathom why those whose earnings are results-based would go as close to the line as possible in an attempt to wring as much profit as they could in any given situation. It doesn't seem too hard to imagine that, under such constantly looming pressure, boundaries will be crossed.
So why should Diamond carry the can for the crimes of others under his employ? He isn't to blame for a system which encourages and rewards naked greed, and it wasn't within his power to change the rules.
Those directly behind the tactics used in the Libor scandal are the ones who should be punished, with those responsible for regulations also culpable. There is no evidence to prove that Diamond knew anything about the regrettable incident, one which reportedly concerned several other organisations.
Indeed, the reason that Barclays is the one pinpointed and vilified is apparently because it agreed to cooperate with authorities, which would indicate that once he was aware of what had happened, Diamond was part of a team that then did the right thing, rather than turning a blind eye to the truth.
By resigning he did the honourable thing, but that's not enough for the bloodthirsty mob baying for the £22m that he could receive as a payoff. There has been criticism that it's an obscene amount to receive, especially given the circumstances. But that's hogwash.
It's easy to understand why £22m might initially seem like quite a bit of cash. However, in July 2011 a Scottish couple won £161 million on the EuroMillions – and just last month another British ticket-buyer won £64 million. Nowadays £22m would barely even buy you a decent football team! (This is the moment at which I gracefully avoid any references to Rangers. Be thankful.)
Diamond was earning a large amount of money per year for doing an extremely important job, with any severance package was agreed well in advance. His outgoings would have risen in line with his income – just as they do for most people once they start earning more – so he'll need something to tide him over.
And thanks to the ferocious criticism that he's faced, any chances of walking into another job any time soon has bitten the dust – so it's actually those who have attacked Diamond that we should blame for the £22m that he's getting, for forcing him into an unenviable position as a banking pariah.
For example, Lib Dem peer Lord Oakeshott said: "This is a great day. Bob Diamond was the greedy gambler, personified."
Such criticism makes Diamond unemployable. If you were leaving your job, and everybody all around was besmirching your good name – making it unlikely that you would find another position – wouldn't you take whatever you could to protect yourself and your family for as long as possible?
Our society has once again shown its disgusting tendency to ignore those who refuse to confess to their sins, instead ripping apart those who dare to be honest about either their own or their organisation's mistakes. How does that make us better in the long run? It seems better to be in a constant state of denial than to be realistic about your difficulties – or even worse, a whistleblower. The former chief executive has been punished disgustingly harshly for trying to do the right thing.
Bob Diamond is an innocent victim in all of this, and you can only imagine the hell that he must be going through. With that in mind, £22m surely isn't enough for the poor rich sod.
MORE DEVIL'S ADVOCATE
More About Devil's Advocate
People who read this story also read