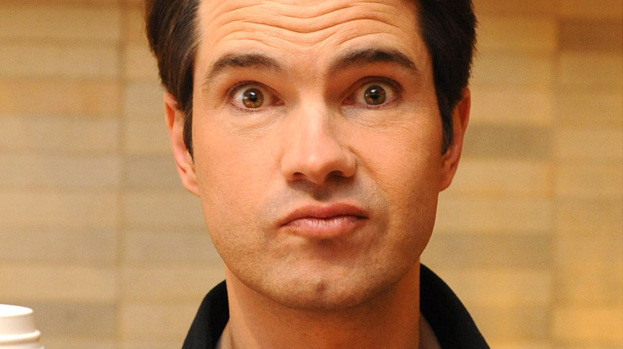 The story, in short: there's a comedian that you might love or loathe – or be pretty indifferent about – called Jimmy Carr.
In the past it was pointless to joke about him, as he would doubtless independently make that very same joke himself at his own expense, earning more money from it than you ever could – therefore plunging you into a pit of despair, all as he cosied up to Her Majesty. Indeed, nothing was off-limits to him when it came to merciless rib-tickling.
However, yesterday the TV personality and stand-up finally found something that wasn't a laughing matter. (And no, it wasn't anything to do with rape, paedophilia or people with disabilities, all of which presumably remain just as hilarious to Carr as they did before.)
Yep, Jimmy Carr – scourge of those fatcat bankers and countless others with his coruscating wit – has been avoiding tax.
You hear that: AVOIDING TAX.
I think there was also something similar about Take That doing the same sort of thing as well, except nobody really cared about that because everybody loves Gary Barlow at the moment and he's getting an honour from the Queen and nobody could possibly dislike the Queen when Gary Barlow's written a song about her and so why don't we just move on don't we because Gary Barlow is so nice isn't he and ooh wouldn't you just snap him up if you had the chance???
So yes, it's true, Jimmy Carr AVOIDED TAX.
This created headlines because he is pretty famous. Then people acted outraged, because people like to say that if they had lots of money they'd go around splashing it around on the poor and destitute, and very definitely paying their fair share.
This ignores the tendency to horde wealth because of (sometimes quite justified) fears that the economy could collapse and you'd be left with nothing, despite hard years of work – and that if you have a family to provide for, they would suffer for your generosity. It's not the strongest argument, but who would you – and do you – protect first: those closest to you, or society at large?
That question shouldn't require too much thought, even though you might prefer to do both. Anyway, you know it's serious when a celeb takes to Twitter to apologise. Through it Carr issued an apology, at one point saying: "I now realise I've made a terrible error of judgement."
Well, his judgement may have been askew, but hasn't it actually had a rather beneficial effect? Precisely because somebody famous was involved, a spotlight has been shone on more than 1000 people who apparently have been using the Jersey-based K2 scheme, sheltering some £168m a year from the Treasury.
Prime Minister David Cameron felt compelled to say Carr's actions were "morally wrong" – despite the financial dubiety of some involved in donations to the Conservative Party, such as Philip Green – and you had better believe the Westminster government will now be doing what they can to ensure that the K2 scheme is stopped in its tracks.
Of course, they will mainly be doing so to stop potential headlines that would place their governance in a bad light, headlines that wouldn never have been created about those hundreds of those non-famous others who acted on the same sort of advice as poor Jimmy did. (Not to mention those who have signed up to other similar schemes.)
The manner of Carr's apology was cowardly and too hastily offered, for he has the opportunity to do something far greater with his current notoriety, and his fame at large. For somebody who has pushed at the boundaries of good taste, he has the chance to... Well, push at the boundaries of good taste again, except this time for the greater common good.
First off – as others have noted – he should point out the rank hypocrisy of the PM criticising his actions, while the likes of Vodafone have been let off the hook under Cameron's watch, even though they should have paid billions and decided not to so, with the country suffering as a result. That's already been fairly widely noted, and seems a no-brainer.
Then – and here's the important part – he should continue to avoid tax. The media and the government only seem properly interested when there's a star name involved, so let's keep the train rolling.
Carr can skip merrily from scheme to scheme, only stopping when each is shut down, thereby highlighting and eradicating tax avoidance and evasion, and creating a vast fund of wealth that can be ploughed back into the country (benefitting teachers and nurses and poorly kids with a bad cough and all sorts).
It would be the greatest thing he – or any other celeb in recent history – had ever done. If nothing else, Bono would be fuming. He would literally earn the country's coffers billions (plus ensure the pretty decent 10 O'Clock Live is recommissioned until the dawn of infinity). What a truly amazing course of action it would be.
It's either that, or he cracks a couple of uneasy jokes about the whole palaver, carrying on relatively successfully but with his reputation forever tarnished. Given his previous bravery in poking fun at taboo subjects, it shouldn't be too hard for him to step up to the plate and prove himself the best type of man, rather than acting the contrite wretch. Instead, you could think him spineless not to do so. So come on Mr Carr, what are you going to do?
MORE DEVIL'S ADVOCATE
More About Devil's Advocate
People who read this story also read